Global stocks hammered as oil prices push further below $30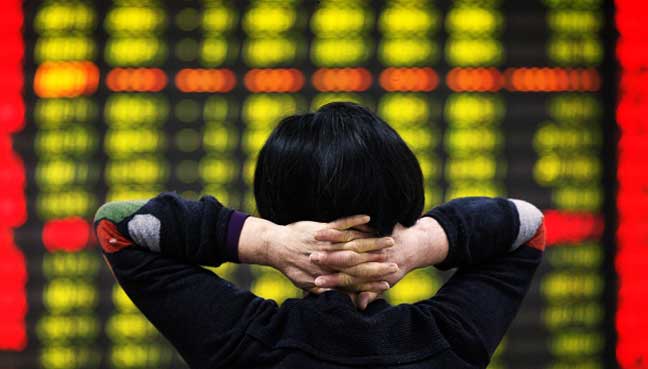 LONDON: Stock markets around the world fell heavily Friday as investors reacted to new 12-year lows for oil prices, auto sector woes and China's struggling economy.
"On Friday it has been all pain for stocks and oil and gains in gold and government bonds," said analyst Jasper Lawler at CMC Markets UK said
"Oil prices plunged as much as 5 per cent back below $30 per barrel, taking emerging market and developed market equities as well as the rest of the commodities space down with them," he added.
"Investors are shifting funds into areas of perceived safety including gold and government bonds in hopes of protecting themselves."
Shanghai was the worst performer in Asia on Friday, losing 3.6pc and entering an official bear market — a term defined as a 20pc fall from a recent high.
Frankfurt was the worst hit among Europe's largest exchanges, down 2.5pc, making it not far off a bear market as it is now down around 16pc from November. Paris's CAC 40, which dropped 2.4pc on Friday, is also down around 16pc from November. The losses topped off a rollercoaster week as a better-than-expected reading on Chinese trade failed to eradicate heightened worries about the health of Asia's powerhouse economy.
World oil prices meanwhile spiralled lower as traders readied for the return of Iranian crude in a market already a wash with supplies.
Brent oil sank to $29.30 per barrel — last seen February 10, 2004. New York's West Texas Intermediate dived to $29.28 — a low dating back to November 5, 2003.
While cheap crude is positive for oil consumers and many companies, stock markets have taken fright as the recent drops in oil prices have been driven to a large extent by fears about China's slowing economy, which has been the main driver of global growth in recent years.
"The markets are trapped in a vicious circle," said Alexandre Baradez, an analyst at IG France.
"The session started off poorly with China, which set things off, leading to oil prices falling, then European markets and Wall Street dropping."
US stocks were off sharply in midday trading, with the Dow down 2.5pc and the Nasdaq 3.3pc.
AUTOMAKERS SKID LOWER: Paris also motored lower on fears that French automaker Renault could be engulfed by an emissions scandal that has plagued German rival Volkswagen, dealers said.
Back in Paris, shares in Renault and other car companies skidded lower once again. Renault had slumped by more than 20pc during Thursday's session after unions reported that anti-fraud investigators had raided several of the company's sites, possibly looking for emissions cheating devices on diesel engines, before closing around 10pc lower.