I feel proud to serve Pakistan army for three years, says General Sharif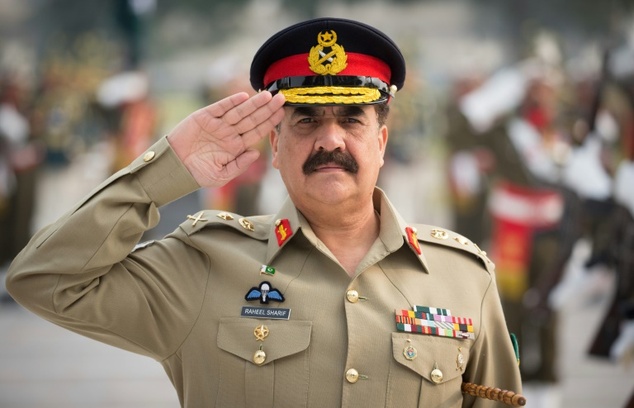 ISLAMABAD, NOV 28, (DNA) – Outgoing Army Chief General Raheel Sharif on Monday paid farewell visits to President Mamnoon Hussain and Prime Minister Nawaz Sharif at their official residences in the capital,
"The Prime Minister praised General Raheel Sharif for his valuable services rendered as army chief and extended his best wishes for his post-retirement life and happiness for his family," a PM's Office statement said.
Both the leaders lauded General Sharif's outstanding achievements for Pakistan and its security particularly for effectively initiating and conducting the famous 'Operation Zarb-e-Azb' in the tribal areas.
General Sharif also visited Inter-Services Intelligence (ISI) headquarters on Monday and met Director General (DG) ISI Lieutenant General Rizwan Akhtar.
During the meet, COAS praised the services and sacrifices of ISI and its officials in the war against terrorism.
Later General Raheel Sharif also presided over a farewell meeting of Corps Commanders Conference at the General Headquarters (GHQ) Rawalpindi.
"I feel very proud to serve Pakistan army for three years," said General Sharif during the conference and insisted, that "successes against terrorism were not possible without the cooperation of the Corps Commanders."
General Raheel Sharif, 60, has been immensely popular among ordinary Pakistanis, who see him as having effectively tackled crime and corruption, besides carrying the fight against terrorism to unstable tribal areas.
He now becomes the first army chief in over 20 years to step down on time. Several previous military leaders had obtained extensions to their three-year terms.
Security across Pakistan has vastly improved under General Sharif, with a number of reported 'terrorist' attacks down.
COAS Sharif always considered the militant threat inside Pakistan as important as the strategic tussle with India.
The army chief received his military commission in 1976 and studied military leadership in Germany, Canada and Britain. He commanded several infantry units, including the Sixth Frontier Force Regiment along the disputed Line of Control (LoC) in Kashmir.
His brother, Major Shabbir Sharif, received two of the country's highest military awards for his action during the 1971 India-Pakistan war in which he was killed.=DNA
=================