General Raheel witnesses military exercises in Kharian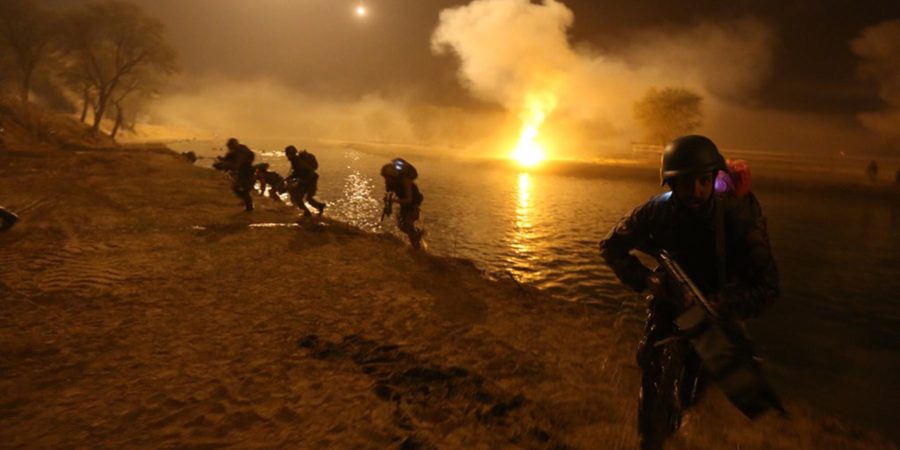 Rawalpindi November 8; General Raheel Sharif, COAS spent night in the field near Kharian and witnessed the night and dawn operations of the central command as part of Army Field Exercises. Exercises were aimed at validating latest operational plans involving infantry and mechanized troops and their support elements from the entire central command. Apart from first ever use of fully digitised virtual Command and Control Room, the exercise saw the first formal employment of indigenous Mine Dispensing System also. SSG troops participated with most impressive High Altitude drop by their free fall paratroopers.
COAS while speaking to officers and men on the occasion said that Army Field Exercise has fully achieved its objectives of validating our updated operational plans integrated with latest communication concepts and cyber technology to radically reduce our reaction time for quick response. He said successful culmination of the Exercise has boosted our confidence in our combat readiness. Induction of numerous indigenously prepared systems manifests our growing technical prowess and self reliance. Our adversary must know while we have been fully occupied in a determined fight against terrorism across the country specially the western border, we have kept ourselves prepared to take on any misadventure or strategic miscalculation by our adversary.
COAS said the resilience, resolve and heroic deeds of our men against odds have earned international acclaim for our audacity as a nation . COAS emphasized on perpetual state of readiness and commended the morale and combat efficiency of troops.