FPCCI official elections result for 2022 halted till final out come the court verdict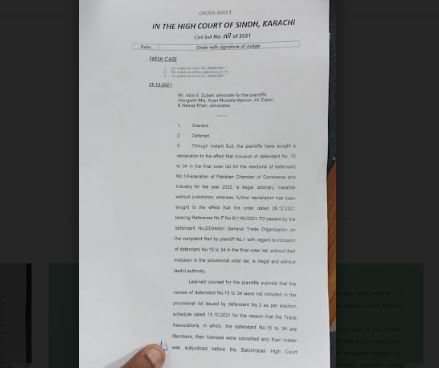 Karachi: /DNA/ – The Election Commission of the Federation of Pakistan Chambers of Commerce and Industry (FPCCI) was unable to declare official and final election results for the year 2022 due to high court order of dated December 29th, 2021.
For Interim Period, Mian Naseer Hyatt Magoo will continue as President of the FPCCI along with his cabinet which is authorised by in the 65th Annual General Meeting of the FPCCI till the final out come of the court verdict.
High Court of Sindh (SHC) ordered issuance of notice for January 13th 2022 to Attorney General of Pakistan, Secretary Commerce, FPCCI, DGTO and others in a case regarding inclusion of the names of different trade bodies in the final voter list of FPCCI for 2022 as un-lawful.
"High Court further ordered that votes casted by the controversial trade bodies be sealed and kept separate subject to the orders of SHC, but the results of the election shall not be announced".
However the un-official results suggest Businessmen Panel (BMP) clinched the victory in the annual elections of the country's apex trade body.
The two competing groups BMP and United Business Group (UBG) have often disclosed use of fake and bogus trade bodies and illegal nominations to rig elections by each of them. To think, the FPCCI politics is no different than the national politics.
The Irfan Iqbal Shaikh representing Lahore Chamber of Commerce and Industry is a President (elect) of the FPCCI for the year 2022 according to un-official polling results stated that he got 187 votes, despite his eligibility as voter/member was also challenged last month before high court and Irfan Shiekh was requested through divisional bench to contest elections only and accordingly he was allowed; but his main case is still pending before the high court for the final verdict too as per case number 2923/2021.
Dr. Nauman Idris Butt of Sialkot Chamber of Commerce and Industry (SCCI) secured 159 votes as runner up followed by Muhammad Aslam Sheikh and Aamir Atta Bajwa being the Presidential Candidates too.
Similarly Muhammad Suleman Chawla representing All Pakistan Textiles Processing Mills Association (APTPMA) is elected Senior Vice President FPCCI according to un-official results.
Mr. Shabbir Hassan (Mansha Churra) representing Pakistan Chemicals & Dyes Merchants Association; Muhammad Nadeem Qureshi of Pakistan Crop Protection Association; Engr. M. A. Jabbar of Pakistan Association Of Automotive Parts & Accessories Manufacturers and Shaukat Ali Omerson representing All Pakistan Restaurant Association are elected Vice Presidents FPCCI for the year 2022 according to un-official results too.
It also note that UBG successfully secured seats of the Vice President's of Punjab, Sindh, Baluchistan, Small Chambers and Women seat.
UBG officials said let's see what court will decide, but we hope rule of law will prevail because many associations status had been challenged well in time before the court which was appeared in the FPCCI Final List of voters for 2022.