Founder President PAAA meets Azeri envoy Khazar Farhadov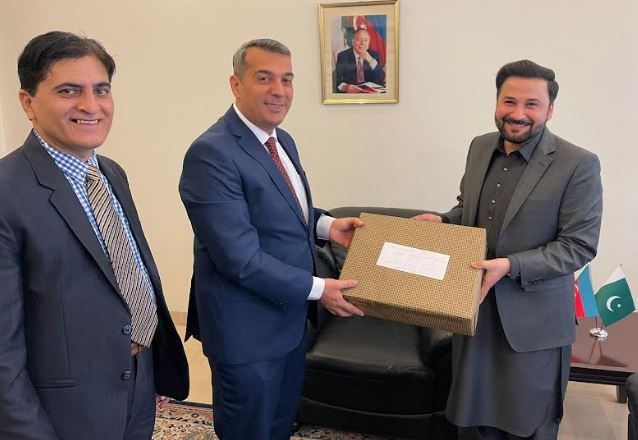 ISLAMABAD, NOV 17 /DNA/ – Founder President Pakistan-Azerbaijan Alumni Association (PAAA), Mr. Qaiser Nawab along with Dr. Muhammad Shakeel Ahmed calls on the newly arrived Ambassador of the Republic of Azerbaijan to Pakistan, H.E. Mr. Khazar Farhadov. The meeting was held at the Embassy of Azerbaijan in Islamabad, on 17th November 17, 2021. The meeting was also attended by Mr. ElchinMehdiyev and Mr. Elnur officials of the Azerbaijan Embassy.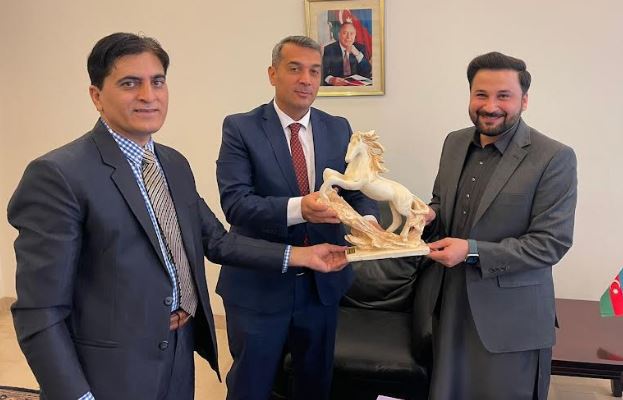 The Ambassador was briefed about the inception of Pakistan-Azerbaijan Alumni Association and its active role in strengthening brotherly relations as well as promoting the youth diplomacy between Pakistan and Azerbaijan in the recent 5 years.Highlighting the strong collaborative and brotherly relationships between PAAA and Azerbaijan Embassy, Mr. Nawab apprised His Excellency that PAAA has organized a numerous youth focused activities including seminars, welfare projects and conferences in Pakistan and Azerbaijan, which have greatly contributed to increase the brotherly relations between the youth of Pakistan and Azerbaijan.
Dr Muhammad Shakeel Ahmed, Advisor PAAA, underscore that the Pakistan – Azerbaijan Alumni Association is planning to establish Pak-Azerbaijan School System, Azerbaijan Study Centers in Pakistan and Pakistan-Azerbaijan International University in future.
Ambassador H.E. Mr. Farhadov assured its fullest support to bridge the two brotherly countries in various fields of mutual cooperation. He believed that by making focused efforts and coordinating cooperative activities, the available prospects might be realized to the fullest. His Excellency underscored the necessity of city-to-city and people-to-people interaction that will provide impetus for strengthening relations in all areas of bilateral or multilateral. The Ambassador suggested to making a movie/documentary on the active and crucial role of Pakistani people particularly youth during the patriotic war of Karabakh.
The Association has extended her support to Azerbaijan's international outreach to achieve global peace and sustainability. The meeting concluded with the presentation of the sculpture of Karabakh Horse by PAAA in recognition to meritorious services of the Karabakh war Heroes.