Fazl throws weight behind urging Prime Minister to not resign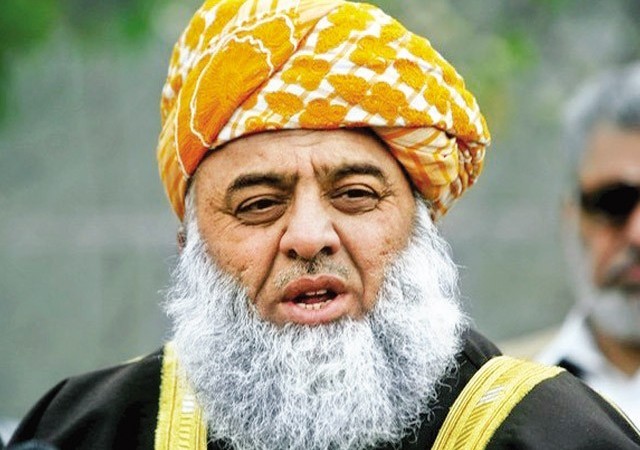 PESHAWAR, July 01 (DNA): Maulana Fazl-ur-Rehman, the chief of his own faction of the Jamiat Ulema-e-Islam (JUI-F) has urged Prime Minister Nawaz Sharif not be tender his resignation and complete his democratically elected tenure.
He said that the Prime Minister was elected according to the wishes and aspirations of the people and should complete his tenure. 'The conditions in the country are not feasible for the Prime Minister to resign," a private television channel reported him as saying.
Fazl said that he had advised the Prime Minister not to resign as the people had trusted him and had faith in him, and that he could continue to serve the nation which had elected him.
He said that the issue of Panama Papers has been subsided in the rest of the world, but was still a contentious issue in Pakistan. This issue was being raised deliberately as per a conspiracy to put pressure on the Prime Minister, who would be unfazed and continue working in the position.
Fazl opposed the repatriation of Afghan refugees to their home country after a passage of a long time. He said that the current condition in Afghanistan were not safe and it was presently not conducive for them to return.
This is likely to draw ire from across the country while the contentious issue is being debated to expel them. The government has extended the stay of legal refugees bearing identity cards till the end of the country. Fazl said that the government should reconsider its decision.
Earlier, Mahmoud Khan Achakzai, chief of the Pakhtunkhwa Milli Awami Party (PkMAP) also opposed the repatriation of Afghan refugees saying that Khyber Pakhtunkhwa belongs to them and they can live there without any fear or identity cards. He has since said that his comments have been taken out of context and misrepresented.
While speaking on the issues on Rs300 million funds been given to the Dar-ul-Uloom Haqqania of Maluana Sami-ul-Haq by the KP government, Fazl said that they are taking an overview of the situation. However, he warned the provincial government against any conspiracy against the madrassah, saying that ulema across the nation will unite with Sami-ul-Haq if there is any threat to the seminary. DNA