Fazl calls on Shehbaz a day after expressing dismay over PML-N-PPP Dubai huddle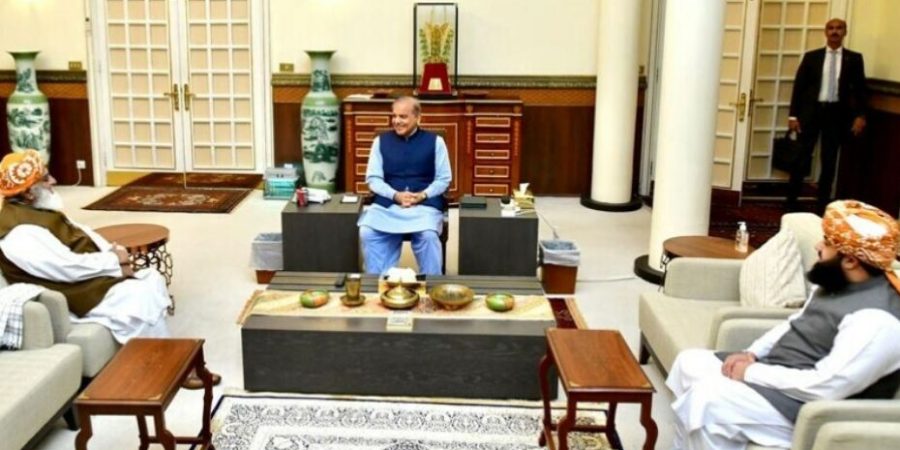 ISLAMABAD, JUL 10: Jamiat Ulema Islam-Fazl (JUI-F) chief Maulana Fazlur Rehman — who also heads the Pakistan Democratic Movement (PDM), the political alliance at the helm in the Center — called on Prime Minister Shehbaz Sharif in Islamabad on Monday and discussed the current political situation in the country, according to a statement issued by the PM Office.
The meeting takes place against the backdrop of signs of rifts within the ruling coalition as well as the PDM with Fazl expressing dismay a day ago over a meeting between the leaderships of the PPP and PML-N in Dubai last month.
Reports at the time of the meeting said the leaderships of the two allies had met to consult on and decide the timing of the next general elections in the country and "their share" in the future set-up.
Speaking to reporters on Sunday, Fazl said questions were being raised within the PDM — which includes the PML-N but not the PPP — regarding the "scheduled" meeting between the two major government allies.
He further questioned why the PDM was not taken into confidence regarding the huddle with the PPP.
In today's meeting with Fazl, the PMO said, the premier appreciated the role of the coalition partners in the government and said that without their cooperation, steering the country out of the economic crisis and reaching an agreement with the International Monetary Fund was not possible.
He also praised the JUI-F chief for "standing with the government in taking difficult decisions", the PMO added.
For his part, Fazl "lauded the efforts of the coalition government under the leadership of the prime minister to steer the country out of the economic difficulties and put it on the path of prosperity", the statement added.
He also appreciated the "firm reaction" and steps of the government and prime minister with regard to "the highly condemnable act" of desecration of the Holy Quran in Sweden, the statement said, adding that the JUI-F chief said the incident was "highly regrettable".
Fazl's son, Minister for Communications Asad Mahmood, was also present at the meeting.