Faisal Raza Abidi arrested for Patel Para killings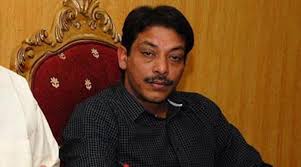 KARACHI, (DNA) : Former Senator Faisal Raza Abidi was arrested during a late night raid at his residence in Karachi on Friday,
Abidi was arrested from his residence in New Rizvia Society, within the remits of Sachchal police station. The raid was conducted late on Friday night and Abidi's house was searched for half an hour, before he was moved to an undisclosed location for interrogation.
According to police, Abidi has been arrested on charges of a firing incident in Patel Para are in which two people were killed.
During the raid law enforcement agencies blocked all passages and surrounded Abidi's residence. Reportedly, personnel on ten vehicles participated in the overnight raid.
Abidi, known for his firebrand speeches for his former party, Pakistan Peoples` Party, resigned from the Senate in 2014. Meanwhile media has obtained the CCTV footage of the yesterday's incident.
Two suspects riding on a motorcycle can be seen in the video. One suspect is wearing the helmet while the other opened fire on the victims.
"Police have arrested Faisal Raza Abidi over his alleged involvement in the double murder case," said SP Noorani.
Abidi is now in custody of the police investigation department for interrogation, the police official said.
The murders happened yesterday as armed pillion riders shot the two men dead near the Fatima Bai Hospital and rode away. A spokesman of the outlawed Ahle Sunnat Wal Jamaat (ASWJ) had yesterday claimed that the two victims were their supporters, however, the area SHO said the men killed hailed from Khuzdar and were associated with the Tableeghi Jamaat.
The FIR (379/2016) for the double murder was registered at Jamshed Quarters police station on Friday night under Section 302 (murder) and 7-ATA (anti-terrorism act of 1997) on complaint of the victims' relative Ghulam Mohammed, said SHO Inam Hasan Junejo. The case was registered against unknown suspects, the official added.
The double murder was followed by killings of three members of ASWJ at Shafiq Mor in North Karachi and a prayer leader in Hyderi Market.
Counter-Terrorism Department official Raja Umer Khattab told media that the same group was involved in all six murders of Friday as the police's forensic lab report confirmed that the same weapon was used in three separate incidents.
Before his arrest, police and Rangers personnel arrived at the former Senator's residence in the city's New Rizvia Society in at least 10 vehicles at around 2:30am, sources told media.They searched Abidi's house for about half an hour before taking him into custody.
The firebrand PPP leader had resigned from his Senate seat in 2014 after developing differences with his party.
Abidi, once among the most trusted lieutenants of former president Asif Zardari, was accused of violating party discipline and repeatedly issuing statements in favour of martial law.