Experts call for learning from past foreign, security policy mistakes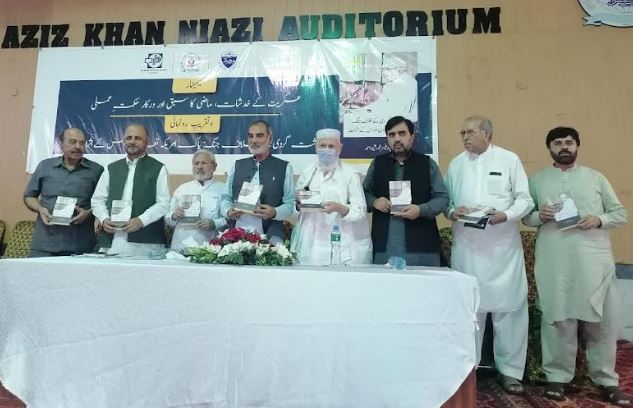 DNA
Peshawar, Sep 23: Former ambassador and veteran statesman Rustam Shah Mohmand has stressed that Pakistan needs to play a proactive role in the region vis-à-vis Afghanistan as it was evident that stability or instability in Afghanistan resonate with Pakistan in parallel. Instead of making further policy dichotomies, Pakistan needs to develop a robust policy concerning Afghanistan. For Pakistan, it is a time to pause, reflect, assess, and consider the dangers that loom on the horizon if Afghanistan remains unstable for a longer time.
He was addressing a seminar titled Askariyat Kay Khadshaat, Mazi Ka Sabaq Aur Darkar Hikmat-e-Amli (Fears of Re-emergence of Militancy; Lesson from the Past and Required Strategy) combined with the book launch of Dehshat Gardi Kay Khilaf Jang: Pak Amrika Ta'awun Aur Is Kay Asarat (War Against Terrorism: Pak-US Relations and its Impacts), the ninth book of the 'Armughan-e-Khurshid Series' recently published in two volumes, which compiles the writings and speeches of Prof. Khurshid Ahmad, a veteran politician, eminent scholar, economist, founder and patron-in-chief of Institute of Policy Studies (IPS) on a variety of subjects of national significance.
The seminar, hosted by Qurtuba University, Peshawar and co-chaired by Khalid Rahman, chairman IPS, and Dr. Muhammad Azhar Khan Niyazi, chairman, Qurtuba Education System, was also addressed by Professor Dr. Fakhr-ul-Islam, director, Pakistan Study Center, Peshawar University, Mahmood Jan Babar, journalist and columnist, Dr. Shahzad Iqbal Sham, senior research fellow at IPS, and Prof. Dr. Muhammad Riaz Khan, dean, Qurtuba University.
While sharing his insights about the changing situation of Afghanistan amidst global and regional scenarios, Rustam Shah Mohmand said that though Afghanistan was supposed to be entering into a new era of peace and stability after more than four decades of civil strife, foreign invasions, war and militarization, it was, unfortunately, not going to happen soon. A lack of robust Afghan diplomacy at the international and regional level, financial isolation, and illogical policy preferences like banning of girls' education have only intensified the deplorable situation in Afghanistan.
While quoting several anecdotes from Prof. Khurshid's book, Dr. Fakhr-ul-Islam apprised the audience of the work and struggle of Professor Khurshid Ahmad and stated that the two-volume book is a historical source for researchers on legislative debates and parliamentary business about foreign and security policy imperatives of Pakistan vis-à-vis the 'War on Terror'.
He underscored the recommendations mentioned in one of the chapters of the book that the foreign policy of Pakistan should be owned and formulated by the foreign office under the guidance of experts and relevant policy stakeholders, which was, unfortunately, not the case so far.
Khalid Rahman stressed that, whatever is the threat, one must find the underlying cause of it to mitigate and solve it. The same is the case with terrorism, which has yet no universally agreed definition. Despite this, such a large-scale policy was formulated against terrorism resulting in dangerous implications with no apparent outcome or solution. To find solutions to such issues, it is necessary to dig down the dynamics of the phenomenon, while giving due attention to overriding factors.
He further pointed out that terrorism has multifold dynamics, including operators, facilitators, and masterminds, at the core of the phenomenon. To deal with terrorism, it is necessary to identify and deal with the mastermind. Lastly, any policy to deal with it must include all stakeholders for it to be fair and successful.
While commenting on Pakistan's policy to join the war on terrorism under the US, Azhar Khan Niazi highlighted that Pakistan has once bitterly tested the ambiguity of the US policy, it now must formulate its foreign policy and Pak-US relation on the win-win principle, while keeping national interests a priority.
While revisiting the history and Pakistan's experiences of militancy, Mahmood Jan Babar was of the view that the policymakers need to learn from their past mistakes and defeat external and internal forces that are working to create instability through resurgence of militancy in Pakistan.