English language training program arranged for young journalists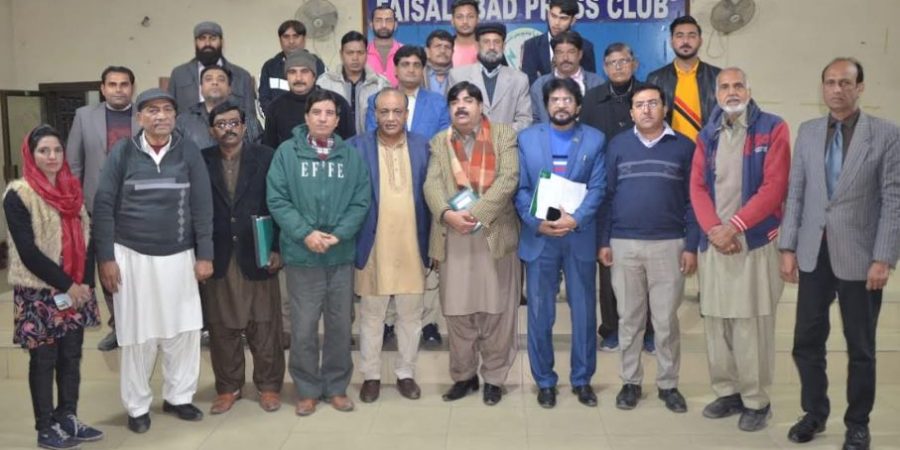 M.A Rashid
FAISALABAD: The Institute for English Language Course held for English language significance for young journalists at Faisalabad Press Club.  Director Lyallpur Museum Mian Atiq Ahmed was the chief guest while Patron Shahid Ali President Press Club, General Secretary Ezadar Abidi, Chairman Atiq Shah, Principal Saif Al Qahar, Professor Saleem Sharmana and Secretary Information Saeed Somi also a participanted in this English language course, Mian Atiq Ahmed in his lecture introduced ancient languages ​​all over the world and provided information about the importance of journalists on the best training of English language in solving current social problems. He further said that a journalist has many responsibilities in journalistic life and it is an urgent need of time to master comprehensively as many languages ​​as possible.
Every face of the society trusts over a bold and fearless journalist. A Journalist Internationally and inter-district Status looks with eagle eyes and such eyes along with this, he should also have complete mastery of the language.
He further said that command over English language is the most important need of the hour so that we can easily understand the affairs of developed countries. Riaz, Karam Ali, Shaukat Sultan Butt, Ashraf Khan, Abdul Wadud Nadeem, Rana Adnan Sarwar,Murad Hashmi, Seal Shah. Rana Hina Jameel, Muhammad Hasan Amin, Nasir Ali, Ashfaq Hashmi, Irshad Prakash, Malik Zahoor Ahmad, Ahmed Bin Shahid, Yasin Malik, Nadeem Rajput, Niand Amin Chaudhry, and many other journalists and photographers also participated.
The President of the Press Club said that journalism is like a deep Sea in which a Journalist can see each and every thing easily. The deeper you go in it, the more you will help to conquer the new world. Senior Photojournalist Abdul Majad said that journalists Strengthen and create sustainability by means of socialization.