Eight-member SC bench to hear judicial reforms bill on May 2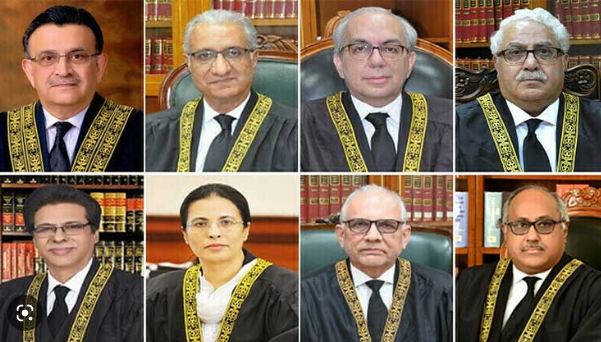 ISLAMABAD, Apr 29 (DNA): The Supreme Court of Pakistan (SCP) on Saturday
fixed for hearing a plea against the Supreme Court (Practice and
Procedure Bill) 2023 on May 2.
The 8-member bench headed by Chief Justice Umar Ata Bandial will hear
the case on Tuesday.
The apex court has also issued notices to the Attorney General of
Pakistan, Supreme Court Bar Association (SCBA) and Pakistan Bar Council
(PBC).
The court also issued notices to 9 political parties including Pakistan
Muslim League Nawaz (PML-N), Pakistan People's Party (PPP) and Pakistan
Tehreek-e-Insaaf (PTI) and others.
In previous hearing, the apex court had stopped the implementation of
the Supreme Court (Practice and Procedure) Bill 2023, aimed at clipping
the powers of the CJP.
It is pertinent to mention here that despite Supreme Court's directive,
the National Assembly last Friday notified the conversion of Supreme
Court (Practice and Procedure) Bill 2023 – which aims to curtail the suo
motu powers of the office of the chief justice of Pakistan (CJP) ­– into
an act.
National Assembly Secretariat notified that the bill of the
Majlis-e-Shoora (Parliament) deemed to have been assented by the
president (with effect from April 21, 2023) under Clause (2) of the
Article 75 of the Constitution of Islamic Republic of Pakistan.
The bill was approved by the federal cabinet on March 28 and then passed
by both houses of parliament — the National Assembly and Senate.
The passed bill – the Supreme Court (Practice and Procedure) Bill, 2023
– aims at giving the power of taking suo motu notice to a three-member
committee comprising senior judges including Chief Justice. It also aims
to have transparent proceedings in the apex court and includes the right
to appeal.
Regarding the constitution of benches, the bill states that every cause,
matter or appeal before the apex court would be heard and disposed of by
a bench constituted by a committee comprising the CJP and the two
senior-most judges. It added that the decisions of the committee would
be taken by a majority.
Regarding exercising the apex court's original jurisdiction, the bill
said that any matter invoking the use of Article 184(3) would first be
placed before the above mentioned committee.
The bill says that if the committee is of the view that a question of
public importance with reference to the enforcement of any of the
fundamental rights conferred by Chapter I of Part II of the Constitution
is involved, it shall constitute a bench comprising not less than three
judges of the Supreme Court of Pakistan which may also include the
members of the committee, for adjudication of the matter.
The bill additionally said that a party would have the right to appoint
its counsel of choice for filing a review application under Article 188
of the Constitution. DNA
====