Dynamic nations implement positive practices: Mehmooda Mamnoon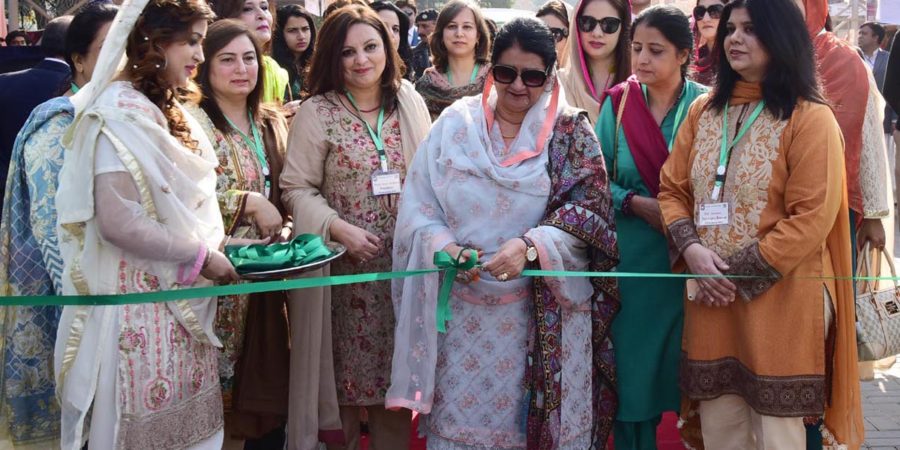 ISLAMABAD, November 27 (DNA): First Lady Mehmooda Mamnoon Hussain on Sunday said dynamic nations keep themselves connected with the contemporary civilizations so as to learn from them positive practices and implement these for the betterment of their societies.
Speaking at the annual charity Bazaar of Pakistan Foreign Office Women's Association (PFOWA) here at the Foreign Office, Begum Mehmooda said such events not only promote informal diplomacy, but also help develop warmth among different nations.
The First Lady appreciated PFWOA for fulfilling its responsibilities in an effective manner and said the activities in the realm of informal diplomacy would promote positive image of the country.
Begum Mehmooda said she was delighted to see the stalls on the occasion depicting colourful cultures belonging to different parts of the world, for which PFWOA deserved immense appreciation.
She expressed satisfaction that PFOWA was actively taking part in welfare activities including providing assistance for construction of schools, helping earthquake-affected people and students from under-privileged families besides bearing the medical expenses of poor patients.
She hoped that PFWOA would continue to play an important role in society through its positive activities.
She stressed the need for serving the poor with true sentiments. She suggested to the Association to establish an Endowment Fund to continuously serve the need people.
On the occasion, the First Lady announced five hundred thousand rupees donation for the Association.
Begum Mahmooda Mamnoon Hussain said these ceremonies are a part of our efforts to further deepen our relations with countries within the region and beyond.
She said the flow of civilizations is imperative for the smooth flow of development activities and any blockade therein directly hampers the process of national development.
She said trans-national linkages and mutual sharing of cultural activities catalyze the maintaining and consolidating of this flow.
Begum Mehmooda also visited various stalls organized by different embassies, based in Islamabad and appreciated the exquisite presentation of cultural diversity through handicraft and cuisine.
Earlier, in his welcome address Foreign Secretary Aizaz Ahmad Chaudhry lauded the role being played by the Pakistan Foreign Office Women Association in augmenting the cultural ties at diplomatic level and bolstering the charity activities.
He expressed hope for the further widening of such cultural and welfare activities as part of informal diplomacy. DNA
================