Chinese artists showcased diverse culture of China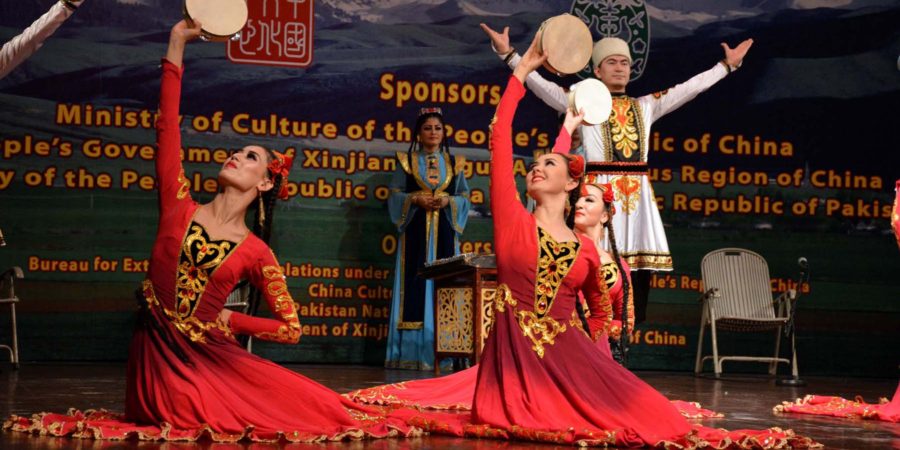 ISLAMABAD,NOV 27 (DNA) –   Colorful and artistically choreographed Chinese cultural troupe's performance bedazzled the audience with traditional dances, folk music and songs here at the Pakistan National Council of the Arts (PNCA).
A 17-item programme, titled "Glamorous China. Colorful Xinjiang," featured northwest China's Xinjiang Uygur Autonomous Region through music & dances.
The spell bounding performance included Uygur dance and song, Tajik group dance, Kazakh song including performances by National Performing Art Group (NPAG), Lahore of PNCA with a collaborative dance performance by Pakistani and Chinese artists.
The performance was culmination of the joint workshop of Chinese and Pakistani artists where artists exchanged their experiences and collaborated earlier this week. Artists from NPAG presented two dance performances with Alghooza Player Akbar Khamisoo Khan breath taking performance.
Official of both the governments, foreign diplomats as well as local students, artists and people attended the event. Chinese ambassador to Pakistan said that   the performance will help Pakistani people know more about Xinjiang and feel the diverse culture in China.
Director General, PNCA Jamal Shah stressed the need to focus on more comprehensive artistic and cultural interactions and exchange.
The performance was a cultural feast, and the artists conducted a top level show with one act blending effortlessly into the other presentation.=DNA
================