Gen Qamar Bajwa has no social media accounts, clarifies DG ISPR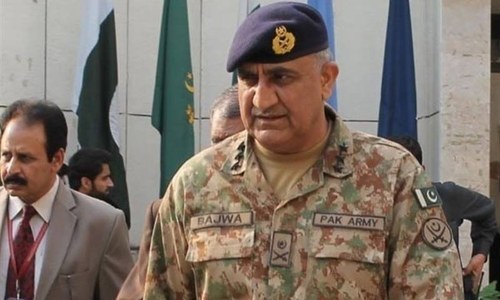 ISLAMABAD, NOV 27, (DNA) -Director General Inter-Services Public Relations (ISPR) Lieutenant General Asim Bajwa has denied presence of Army Chief-designate General Qamar Javed Bajwa on the social media.
The DG ISPR's statement via his tweet surfaced after many well-wishers tweeted felicitation messages to the new army chief on a twitter account.
The military's spokesperson said 'Gen Qamar Bajwa has zero presence on social media. All facebook/twitter & other social media platforms ids & accounts on his name are fake".
It should be noted that Lieutenant General Qamar Javed Bajwa was appointed as the new Chief of Army Staff of Pakistan on Saturday.
Lt. General Qamar Javed Bajwa is currently working as Inspector General of the Training and Evaluation at the General Headquarters. He has also commanded the Army's 10 Corps. He belongs to the infantry's Baloch Regiment.
Bajwa is a graduate of the Canadian Forces Command and Staff College, Toronto, Canada, The Naval Post Graduate University, California and the National Defence University, Islamabad.
Bajwa served as Chief of Staff at Corps X in Rawalpindi and has also commanded formation division in Northern Areas. He has also commanded a United Nations peacekeeping mission in Congo.
A day after General Qamar Bajwa's appointment as Pakistan's new army chief, DG ISPR Lt General Asim Saleem Bajwa has clarified on Sunday that the new Chief of Army Staff (COAS) has no presence on social media.