Direct talks with Taliban to help in peace efforts: Sartaj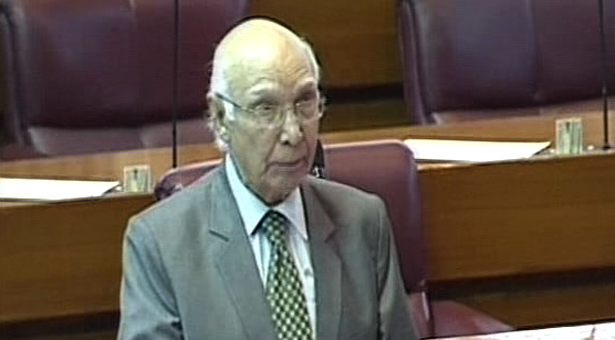 WASHINGTON, 02 MAR (DNA) – Adviser on Foreign Relations Sartaj Aziz says direct talks between the Taliban and Afghan officials would help strength efforts for peace in Afghanistan.
 Speaking at an event organised by the Council on Foreign Relations in Washington, the Adviser hoped the meeting between the Afghan government and the Taliban could take place in coming ten to fifteen days.
 The Adviser said reconciliation is imperative for putting a halt to insurgency and attaining lasting peace in Afghanistan. Sartaj Aziz said Pakistan will not become peaceful unless peace returns to Afghanistan.
 Sartaj Aziz said the government has taken action to deal with the problems of extremism and terrorism. He said almost 95 percent of area in North Waziristan has been cleared as a result of Zarb-e-Azb operation and the terrorist network has been totally destroyed.
 The Adviser said the government is now working to choke the financing sources of un-registered seminaries and they have been asked to either register or be closed down.
 Meanwhile, talking to newsmen in Washington, Advisor on Foreign Affairs Sartaj Aziz says India is directly involved in inciting terrorism in Balochistan and Karachi and proofs of its involvement have been provided to the neighboring country.
 Aziz said Pakistan will consider reducing its nuclear weapons arsenal once India does it. "India is developing its nuclear stock. Its ability after the (civil nuclear) agreement with the United States to divert more stocks to it, more fissile materials to nuclear weapons has increased much more."
 Sartaj said. "I think (Pakistan's top) security concern is strategic and conventional imbalance with India." "I think, it is important for Pakistan to really process that reality and put that front and center in its policy," he said in an apparent reference to the reports that Pakistan has the fastest growing stockpile of nuclear weapons in the world. The nuclear and non-proliferation issue is among the six topics that was discussed during the sixth US-Pak Strategic Dialogue co-chaired by Kerry and Aziz.
 "Our nuclear program is deterrence. It is India which is expanding its nuclear arsenal at a much faster rate than we are," Aziz alleged. "The concept of deterrence is a dynamic one. Deterrence has to be effective and our deterrence is India centric. If India would not have started its nuclear program, we would have never done this," he said. DNA