CPEC to bring prosperity, development, say speakers at IPRI moot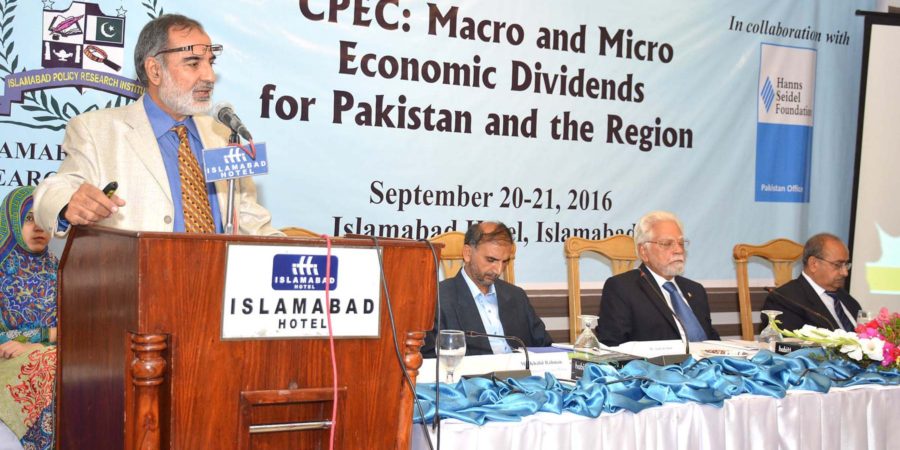 ISLAMABAD, SEPT 20 (DNA) -Pakistan's economy is expected to achieve 4.7% GDP growth in 2016 . This was stated by former Ambassador Sohail Amin, President IPRI, who also spoke about CPEC.
He said that the CPEC infrastructure projects, including the Processing and Industrial Production Zones along the Corridor route once completed would open up and connect the least developed districts of Balochistan, Khyber Pakhtunkhwa, and Gilgit-Baltistan, with the mainstream national and even regional economies.
He was addressing the two-day national conference on 'CPEC: Macro and Micro Economic Dividends for Pakistan and the Region' jointly organised by the Islamabad Policy Research Institute and Hanns Seidel Foundation in Islamabad on Tuesday.
In his inaugural remarks Chief Guest, Dr Mujahid Kamran, Vice Chancellor, Punjab University, Lahore, said that Pakistan's strategic location and its great mineral resources give it an edge in the region.
However, he warned that while CPEC is an opportunity, it is also a challenge for Pakistan since it requires economic and governance reforms, along with massive investment in trained and educated manpower.
With the number of PhDs on the rise, the latter situation has seen much improvement, but the government needs to allocate more funds towards Research and Development (R&D).
CPEC has given much needed hope of development to the people of Balochistan, which must be consolidated, he urged. On the current security situation in various parts of the world, Dr Kamran remarked that terrorism had become a device to instigate both fear and anger, especially towards Muslims, who are now going through systemic genocide. He was of the view that young activists everywhere were changing socio-political dynamics, forcing people to look beyond the war-mongering rhetoric of official media to alternate media sources as well.
Providing a detailed overview of the objectives and guiding principles of CPEC; its institutional arrangements; and the principles and details of  Early Harvest Projects, Mr Asad Ali Shah, Assistant Chief, Ministry of Planning, Development & Reform, informed that the Corridor was not restricted to a single alignment, rather all provincial capitals are included as nodes, with joint feasibility surveys carried out.
Mr Khalid Rahman, Director General, Institute of Policy Studies (IPS), Islamabad, analysed CPEC's economic benefits to China from three different yet entwined contexts: bilateral; in the context of OBOR; and in the larger context of changing Chinese role in the world.
He shared that in the bilateral context, nuclear and defence cooperation have remained a significant element in Sino-Pak relations; and CPEC has provided an additional impetus to such cooperation e.g. in the deal of eight submarines worth US$6 billion.
He pointed out that while essentially a bilateral arrangement, CPEC serves as the backbone for the One Belt One Road, making the two-way connectivity between Middle East, Gulf and Africa and South and Central Asia, easier, cost-effective and efficient.
Ambassador Inamul Haq, Former Foreign Minister, as chair summed up the cumulative advantages of CPEC to China and Pakistan.
Chairing the session, Dr Ashfaque Hassan Khan, Principal and Dean School of Economics, NUST, Islamabad, said that CPEC may change the face of Pakistan's economy, if all goes well. Today, half a million tonnes cargo is being handled via Gwadar. Next year, it is expected to reach a million. However, when the Port becomes fully functional, it will have the capacity to handle 300 to 400 million tonnes of cargo.
Former Minister of Finance, and current Chairman, Pakistan-China Centre for Economic Cooperation, Lahore, Dr Salman Shah outlined how CPEC and economic integration with China will produce a two-tier private sector in Pakistan.
On one side, the great companies oriented to the export market, with access to Chinese financing and partnerships, will greatly benefit. However, when economic power will be  concentrated in the efficient producers that can count on foreign financing,  most small and medium size businesses that have to confront high financial costs in order to improve their technological capacity will be left behind, he warned.
Thus, the labor-intensive sectors of the national economy will need special support from the Government to link with global value chains. Dr Shah predicted that most industrial companies from Pakistan that will benefit from the FTA with China will be those that develop networks to distribute their products or establish long-term agreements with Chinese producers and/or distributors. =DNA
============