CPEC to change destiny of people, says Chinese ambassador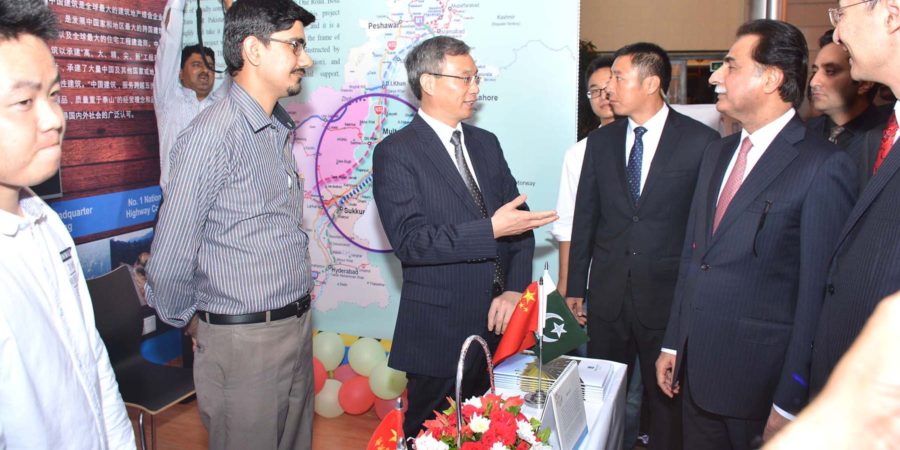 ISLAMABAD, SEPT 28 (DNA) – During the past 30 years, China has achieved rapid economic growth and sustained livelihood improvement. China has been the world's second largest economy since 2010 and created a miracle of development by "China speed".
Chinese Ambassador Sun Weidong expressed these views while speaking on the occasion of 67th Anniversary of founding of People's Republic of China. Sardar Ayaz Sadiq Speaker National Assembly was the chief guest.
The ambassador further said, "We pursue peaceful development. We maintain that all countries, big or small, are all equal. We advocate the opening-up strategy of mutual benefits and win-win cooperation. We develop friendship and cooperation with all countries based on the Five Principles of Peaceful Co-existence. We have made our contribution to the world peace and development".
He added, China and Pakistan are all-weather strategic cooperative partners. Since the establishment of diplomatic ties 65 years ago, China and Pakistan have always maintained mutual understanding, mutual trust and mutual support.
No matter how the international and regional situations have changed, our friendship remains unbreakable and even gets stronger than before. It has become a model of relations between countries.
Recently, when learning that some provinces of Southern China suffered from severe flood, the Pakistani government promptly provided emergency assistance of 10,000 tons of rice to China. It once again reflected the love and care of Pakistani people to the Chinese people in times of difficulty. Please accept our heartfelt gratitude to our Pakistani brothers!
He said, since the successful state visit of President Xi Jinping to Pakistan last year, the all-round cooperation between China and Pakistan has maintained strong momentum with substantive advancement.
As the major and pilot project of the Belt and Road Initiative, China-Pakistan Economic Corridor has made significant progress. Up to now, among the 30 early harvest projects, 16 have been completed or are under construction, with investment of more than 13 billion US dollars.
These projects have created tens of thousands of job opportunities for the local people, and brought great vitality to the development of Pakistan.
From its very beginning, CPEC is a project designed to promote people's livelihood. The ultimate goal of CPEC is to achieve economic growth and improve people's livelihood, no matter whether they are projects of Gwadar Port, transportation infrastructure, energy and industrial cooperation, or they are educational and medical programmes. That is why CPEC has won extensive support from people of all walks of life in Pakistan, he added.
Chinese Ambassador said, like all the other projects under the Belt and Road Initiative, CPEC is an open and inclusive cooperation concept.
It is neither exclusive nor against any third party. It is by no means a zero-sum game. It will make the people of this region benefit from connectivity, industrial cooperation and cultural exchanges. It will play an active role in promoting the development and prosperity of the region.
The Chinese people always advocate high morality and honor commitments. We emphasize hard work and believe that actions out-speak words. What is now under construction are just early harvest projects of CPEC.
"I am convinced that in the near future, CPEC will attract more investment, bring more business opportunities and promote more exchanges just like a huge magnet. We will witness the changes and benefit from the dividends brought by CPEC", said the Chinese Ambassador.
On this occasion, I want to thank the Government of Pakistan for promoting the construction of CPEC. I want to thank the Pakistani military and law enforcement agencies for creating a safe environment for the Chinese people and institutions in Pakistan.
I also want to thank the political parties, think-tanks, media and all the friends for your valuable support to the China-Pakistan friendship and cooperation.
"Today, I invited some representatives of both Chinese and Pakistani technicians and engineers. They are working on the construction sites of CPEC projects. They are: engineers working on KKH Phase II in Havelian from China Road and Bridge Corporation, engineers based in Multan of the M4 Highway (Multan – Sukkur section) from China State Construction Engineering Corporation, technicians of Sahiwal Coal-fired Power Plant from Huaneng Shandong Ruyi Energy Corporation, engineers of Port Qasim Coal-fired Power Plant from Power China Resources, engineers of Gwadar Port from China Overseas Ports Holding Company".
Chinese Ambassador Sun Weidong said,  they are working so hard day and night for a better tomorrow of our two countries. They really deserve  I am convinced that, under the guidance of our leaders and with the joint efforts of both countries, the road of China-Pakistan friendship will be getting broader and brighter in the days to come.
Let's join hands towards our common dreams and make unremitting efforts to achieve the goal of the Community of China-Pakistan Shared Destiny at an early date, he concluded.=DNA