Commemorative ceremony for APS Peshawar terrorist attack martyrs held in Ankara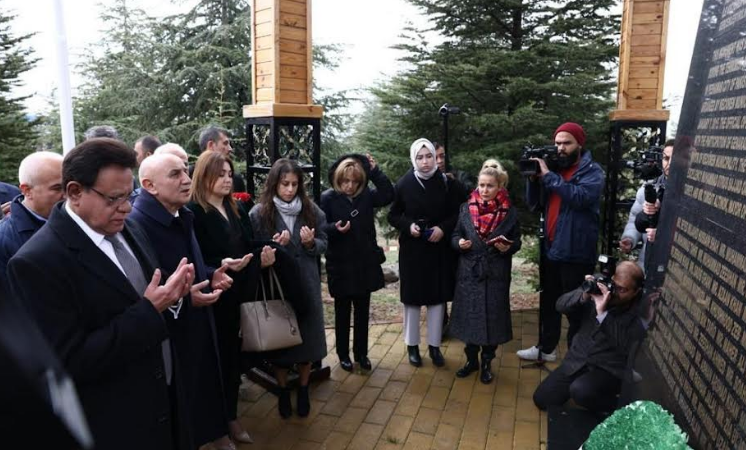 ANKARA: A commemorative ceremony was held today at Keçiören, Ankara to pay homage to the school children and staff martyred in the brutal terrorist attack on Army Public School (APS) Peshawar in 2014.
Ambassador of Pakistan Dr. Yousaf Junaid, Keçiören Municipality Mayor Turgut Altinok, diplomats from Azerbaijan, Kazakhstan, other embassies, officials from Keçiören Municipality and Pakistan Embassy attended the event.
Speaking on the occasion, Ambassador Junaid stated that eight years ago, on the tragic day of 16 December 2014, a brazen and violent terrorist attack on APS Peshawar martyred 144 children. He noted, that day Pakistan suffered an atrocity that we do not wish upon our worst enemies. Since that day our resolve to fight terrorism has grown stronger and our armed forces have conducted successful operations against terrorism.
The ambassador also mentioned about the dossier on state terrorism against Pakistan, released by its government yesterday. The dossier highlights involvement of India in a deadly terrorist attack that took place on 21 June 2021 in a peaceful neighborhood of Johar Town in Lahore. Pakistan, with the support of its friends, will prevail over terrorists and their sponsors, ambassador underscored.
Referring to the highly condemnable terrorist attack that took place in Istanbul last month, ambassador reiterated Pakistan's support for Turkiye in its fight against terrorism. He expressed heartfelt gratitude to Turkish brethren for solidarity and keeping the memory of martyred children alive by planting a tree in each martyr's name.
Reaffirming strong solidarity of Turkiye with Pakistan, Mayor of Keçiören Turgut Altinok, condemned the terrorist attack and said nothing can justify such a brutal and inhuman act. He stated that the people of Turkiye would continue to stand by their Pakistani brothers in all aspects of life particularly in fight against terrorism.
Later, the Ambassador along with Mayor Kecioren and other dignitaries laid wreath at the memorial of the APS martyrs.  Trees were planted in the memory of martyred children.