CM Punjab inaugurates display center for Women Entrepreneurs at RCCI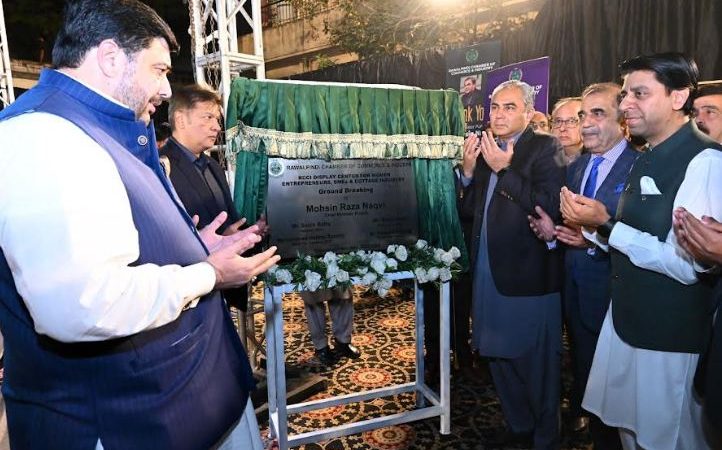 DNA
Rawalpindi: For the first time in history, the Chief Minister of Punjab Mohsin Raza Naqvi along with his entire cabinet participated in the ceremony at the Chamber of Commerce and Industry in Rawalpindi
Ministers including Industries Minister SM Tanveer and Minister for Primary and Secondary Health Dr. Jamal Nasir, Minister Information and Culture Amir Meer, Dr. Javaid Akram Specialized Healthcare Department, Ibrahim Murad Local Government,Bilal Afzal Communications & Works and Excise among others, were also present at the ground breaking ceremony of display center for women entrepreneurs, SMEs and cottage industries.
On this occasion, Chief Secretary Punjab Zahid Akhtar Zaman, IG Punjab Usman Anwar, Commissioner Rawalpindi Liaquat Ali Chatta, RPO, CPO, Deputy Commissioner and others along with the government officials of Punjab administration along with a large number of local people participated.
The function was attended by office bearers of RCCI, former presidents of Rawalpindi Chamber, women and a large number of business leaders and members.
President Saqib Rafiq said in his address that this is the first time in history that the Chief Minister of Punjab, including his entire cabinet, including advisers and administration, along with the Chief Secretary, IGPunjab and all administrative officials, visited the Rawalpindi Chamber, which not only motivates us but it also shows the seriousness to solve the problems of the business community. He said that the one window operation facility will help solve the problems of the business community and it is encouraging that the Punjab government is taking suggestions from the chambers.
He thanked the Chief Minister for starting work on the Ring Road, Safe City Project and for the grant of 2 billion to BBH and Holy Family Hospital.
Chief Minister Punjab Mohsin Naqvi said in his address that this is the first time that the cabinet meeting was held in Rawalpindi in which the progress of many projects was reviewed. He said that the efforts of RCCI for the business community of Rawalpindi region are commendable and appreciated the effective input of representatives of the business community.
The Chief Minister said that we want the government hospitals to be handed over to the public sector. If the Chamber of Commerce wishes, any government hospital can provide it.
Caretaker Chief Minister said that he is considering the Rawalpindi Institute of Urology under PKLI.
Mohsin Naqvi said that they are also starting window operations to save the business community from problems. If a businessman wants to do something, he will no longer go to 36 departments.
Group leader Sohail Altaf also appreciated the efforts of the Chief Minister and his cabinet for the business community. Appreciating the actions of the Chief Minister, he also gave him the title of Mohsin Punjab. Sohail Altaf said economic development can be achieved through industrialization, adding economic zones along the ring road, relocation of transport and wholesale markets, improvement of Nala Lai and Kachhari Chowk and industrial projects.