Chingiz Aitmatov's stories book launched in Pakistan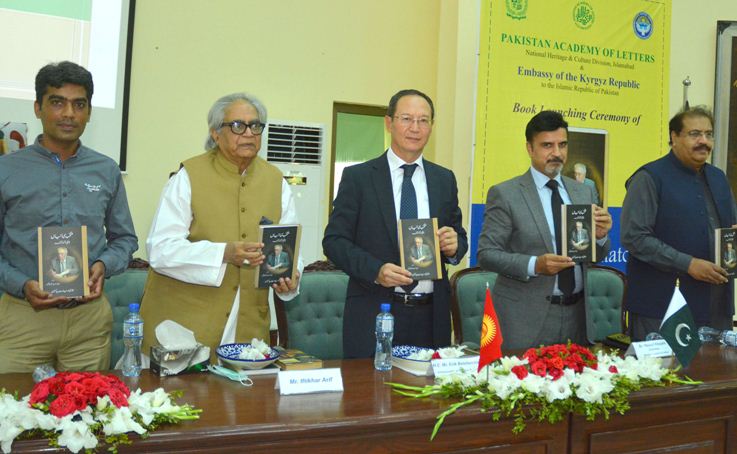 Ansar M Bhatti
ISLAMABAD: A Book Launching Ceremony of Chingiz Aitmatov's selected stories "Jamila", "Farewell, Gyulsary" and " Spotted dog running by the edge of the sea" translated and published into Urdu by the Academy of Literature of Pakistan, at the initiative of the Pakistan was held in Islamabad.
Erik Beishembiev, Ambassador of the Kyrgyz Republic in his speech noted that the Book Launching Ceremony of Chingiz Aitmatov's selected stories took place in the year of the 30th Anniversary of the Independence of the Kyrgyz Republic. He spoke about the main stages of development of the Kyrgyz statehood, informed about the life path and rich literary heritage of Chingiz Aitmatov, whose works were translated into 176 languages.
Embassy of the Kyrgyz Republic showed a documentary film about Chingiz Aitmatov and also organized a Photo Exhibition and a performance on a Kyrgyz song.
The event was attended by writers, scientists, representatives of the diplomatic corps and the media.
Ambassador Erik further said, he was glad to note that Kyrgyzstan enjoys excellent bilateral relations with Pakistan since establishment of diplomatic relations in 1992. During last 30 years our countries exchanged presidential visits twice, Kyrgyz Prime Ministers visited Pakistan twice, Pakistani Prime Ministers came to Kyrgyzstan four times, Speakers of the Kyrgyz parliament visited Pakistan twice and Ministers of Foreign Affairs of our countries exchanged visits. In June 2019, the Prime Minister of Pakistan Imran Khan met his Kyrgyz counterpart on the sidelines of the SCO Summit in our capital Bishkek. During conversation, they reviewed bilateral relations and agreed to hold Joint Ministerial Commission and Bilateral Political Consultations, to comprehensively upgrade mutual cooperation in diverse fields and strengthen the land and air connectivity between the two countries, to enhance people-to-people contacts and boost tourism cooperation through friendly visa regimes. Prime Minister Imran Khan invited Kyrgyz President to visit Pakistan.
Cooperation in the field of education is developing actively. About 7,000 Pakistani students are studying in Kyrgyzstan mostly in medical universities. In February this year, Kyrgyz Minister of education and science A. Beishenaliev visited.
Talking about trade the ambassador said, the existing trade volume between Kyrgyzstan and Pakistan is not up to the actual potential that exists and both countries should work towards increasing it.
In order to promote trade and economic relations Intergovernmental Kyrgyz-Pakistani commission was established in 1994, which held its third meeting on 11-12 January 2017 in Islamabad. Now we are expecting the Pakistani delegation to come to my country for the next meeting of the commission.