Chinese customs authorities optimize policies to expedite customs clearance for imported fresh products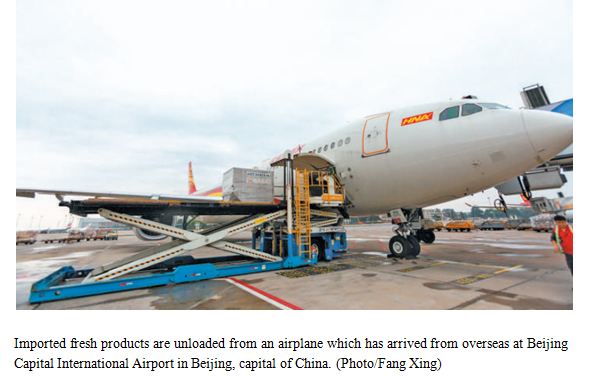 By Du Haitao People's Daily

Tropical fruits from Southeast Asia, lobsters from South Africa, Dungeness crabs from North America, yellow pitayasfrom Ecuador…As China's consumer market recovers at an accelerated pace, more and more overseas fresh products are making their way onto Chinese dining tables.
Chinese customs authorities have introduced effective measures to ensure convenient and smooth customs clearance for imported fresh products.
A flight from Bangkok, Thailand landed on time at the runway of Beijing Capital International Airport in Beijing, capital of China, at 9:02 a.m. one day.
Zang Dong, section chief of the aviation monitoring division at the logistics monitoring department of theairport's customs authority, stood poised at the arrival gate alongside two customs officers. They had been waiting for the airplane to arrive on time and were ready to provide customs clearance.
"Fresh products are difficult to store in high temperatures and can only be declared as soon as they arrive," said Zang.
As pre-arrival declaration forms submitted by the importing company showed, the aircraft was carrying one tonne of tropical fruits which neededswift customs clearance upon landing.
After the cargo section of the airplane slowly opened, a platform truck unloaded 1,092 kg of Thai rambutans from the aircraft. Zang and his colleagues immediatelybegan inspecting the fruits.
They carefully checked the paper waybills, focusing on whether there was any spilled liquid and whether the packaging carried any quarantine pests or vectors. After being inspected, the shipment ofThai rambutans successfully passed customs clearance.
Statistics show that in the second quarter of this year, Beijing Capital International Airport handled 230 million yuan (about $31.92 million) worth of imports, including aquatic products, seafood and fresh fruits. This figure represented a significant increase of nearly 140-fold over the first quarter.
During the same period, imports of specialty agricultural products saw eye-catching growth. Major imported fruits were mangosteen, durian and rambutan, while main seafood items were salmon and lobster.
Many enterprises expressed that maintaining freshness is an essential priority when bringing in fresh products from abroad. These products demand efficient transportation, prompt customs clearance, and consistent cold-chain management. With fresh goods, every minute matters.
"The Customshas implemented pre-arrival declarations and paperless clearance, whereby importers can complete all necessary clearance procedures simply by uploading electronic documents online. This includes the procedures for document receiving, review, and final approval," explained Gao Hongtao, general manager of Beijing Huayi International Freight Forwarding Co., Ltd.
"This greatly streamlines declarations and quickens clearance, which is crucial for fresh imports," Gao noted.
To handle potential revisions in cargo manifest data, the customs authority of Beijing Capital International Airport offers round-the-clock services to promptly transfer imported goods from aircraft to warehouses upon landing, prioritizing cargo breakdown, waybill acceptance and other subsequent logistics operations.
It also adopts electronic quarantinepermits for entering animals and plants, which enable real-time online verification of these documents.
China's consumer market shows massive potential. In 2022, China imported $2.7 trillion worth of goods, making itself the second largest import market of the world for the 14th consecutive year. This figure accounted for nearly 11 percent of total world imports.
As consumption structure continues upgrading, consumer demand in China for imported products is becoming more diverse and personalized.
In recent two years, the Regional Comprehensive Economic Partnership (RCEP) agreement has been comprehensively implemented.
Encompassing the world's largest population, highest trade volume and economic output, and greatest growth potential, the RCEP agreement has injected major impetus into regional development and opened up new possibilities for China to expand its imports of fresh goods.
"From tariff reductions to smoother customs clearance, the RCEP agreementhas substantially improved the ease of doing business for traders engaged in international commerce," explained Lyu Huibin, general manager of Beijing North China Transport International Freight Forwarding Co., Ltd.
As China is expanding multilateral and bilateraleconomic and trade relationships globally, domestic demand for quality imports will keep rising, harboring tremendous market potential, Lyu added.
According to data from China's General Administration of Customs (GAC), in the first half of 2023, China imported 125.08 billion yuan worth of agricultural products from ASEAN, up 7.5 percent. Fruit imports totaled 40.54 billion yuan, up 24.1 percent. Imports of durian and pineapple rose 65 percent and 24.1 percent respectively.
To further smooth industrial and supply chainsand improve trade facilitation, as well as help companies cut costs and increase efficiency, Beijing Customs District of the GAC recently rolled out 27 measures to optimize business environment.
Zhang Geping, director general of Beijing Customs District of the GAC, said Beijing customs will streamline clearance procedures and improve logistics efficiency for perishable agricultural goods, special items and other products requiring quick customs processing.
"We will implement more rigorous measures to ensure high-quality fresh products can swiftly pass through customs clearance," Zhang added.