China's governance meets needs of people in livelihood improvement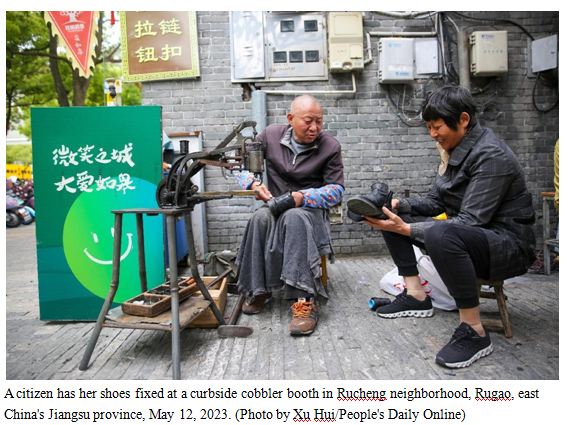 By Meng Fanzhe, People's Daily
After Shanghai put into practice a centralized registration mechanism for self-employed individuals last year, Hu, a bicycle mechanic in the eastern Chinese metropolis finally had his open-air bike repair stall certified.
Thanks to the mechanism, many curbside crafters like Hu in the city have made their business legitimate, including tailors, cobblers and other providers of everyday services.
Inconspicuous they may seem, but they are indispensable in people's daily life. Such a business form facilitates consumption, ensures livelihood and provides people with more sense of happiness. It also creates jobs and helps expand employment.
Many of those who are engaged in these businesses have gradually become a part of the communities they serve, a "neighbor" offering timely assistance. These businesses are a carrier of the human touch.
Rapid urban development has reshaped the space in which people live, with wider roads, larger shopping areas, and denser residential buildings springing up. However, the number of such handy services for the communities has been on a decline.
Newly built communities in cities don't have enough space for such services, and some old residential complexes have removed these booths while upgrading. Besides, fewer crafter is willing to engage in such services due to meager income and the shrinking market.
In February this year, China's Ministry of Commerce said to provide tailor-made solutions, shore up weaknesses in public service facilities, expand the types of businesses serving basic daily needs and improve the quality of life. For example, it will let small repair jobs, such as shoe repair and lock repair, return to people's lives in an orderly manner.
Considerate policy support has been made to respond to people's demands, a reflection of China's good governance. In recent years, targeted and pragmatic measures across the country have been launched to guide the orderly return of minor repair services to people's lives.
North China's Tianjin municipality launched favorable policies such as rent reduction and exemption to encourage the development of minor repair services.
Taiyuan, capital of north China's Shanxi province established a batch of service booths and stalls to facilitate the return of small repair jobs.
Dongguan in south China's Guangdong province launched a map showing the locations of small repair booths, with which citizens can turn to the nearest one around.
Such practices to maintain the vitality of repair services have proved that good governance needs to eye on people's demands, ensure the supply of services, and make constant efforts in policy support, reasonable layout and standardized operation.
The return of small repair jobs is not simply about "yesterday once more." What's important is to ensure normal and orderly operation.
Roadside booths and the street-vending model in the old days might be convenient, but they obstructed the traffic, posed potential safety risks and sometimes impacted urban sanitation. How to create more space for minor repair services while ensuring sound management and safety has thus become a topic of urban management.
In practice, some regions requested service providers to operate in only designated areas and keep away from tactile pavements, greenbelts or parking spaces. Some have established special service counters for crafters in supermarkets and supply and marketing cooperatives.
These innovative measures in light of local conditions aim at refining governance and enhancing communities' capability in the supply of services. They are expected to give the people a higher sense of fulfillment.
Urban construction shall reflect the humanistic spirit, be it in building urban rail transit, improving public services and facilities, bettering the environment for entrepreneurship, or solving housing problems for new citizens and young people.
To build a livable and secure environment for the people is a priority in China's urban construction. The country is steadily improving the quality of its urbanization and striving to bring high-quality urban life to more people.