China's first deep-sea floating wind farm connected to power grid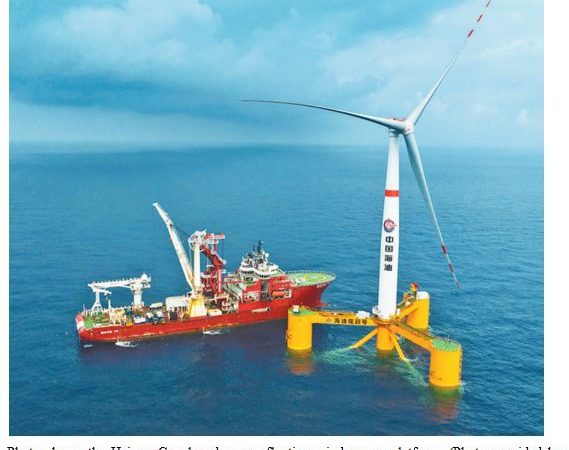 By Ran Yongping, Ding Yiting, People's Daily
China's first deep-sea floating wind power platform, named Haiyou Guanlan, was connected to the power grid of an offshore oilfield group in Wenchang, south China's Hainan province on May 20.
The platform, built by the China National Offshore Oil Corporation (CNOOC), will generate green power for the operation and production of offshore oilfields. It marks major progress achieved by China in key technologies of deep-sea wind power generation.
The wind turbine, with a diameter of three impellers extending 158 meters, can cover an area of nearly 20,000 square meters in one rotation, which is equivalent to the size of 2.7 standard soccer fields. The green electricity generated will be sent to the power grid through a 5-kilometer dynamic subsea cable.
Currently, most of the offshore oilfields in the world are powered by fossil energy. Wind power generation offers a greener way of production for deep-sea offshore oilfields.
Haiyou Guanlan is expected to generate as much as 22 million kilowatt hours of electricity annually, which will all be used for oil and gas production. It can save nearly 10 million cubic meters of natural gas and reduce carbon dioxide emissions by 22,000 tonnes every year.
The platform is located in waters 136 kilometers away from Wenchang. With an installed capacity of 7.25 megawatts, it consists of a wind turbine, a floating foundation, a mooring system and a dynamic cable.
It is China's first offshore wind power project with a water depth of over 100 meters and an offshore distance of over 100 kilometers. The platform is more than 200 meters high with a total draft weight of 11,000 tons.
The Haiyou Guanlan facility adopts an integrated design for wind turbine and floating foundation, and thus is able to ensure safe and stable operation under strong typhoons.
China's offshore wind power industry has embraced continuous development over recent years. According to Qin Haiyan, secretary-general of the Chinese Wind Energy Association under the China Renewable Energy Society, China installed an offshore wind power capacity of 5.16 million kilowatts last year, with the total reaching 30.51 million kilowatts, the highest in the world.
Thanks to the large-scale development and technological progress in the industry, China's offshore wind power has greatly improved in cost. From 2010 to 2021, the levelized cost of electricity generated by offshore wind turbines in China dropped nearly 56 percent to about 0.33 yuan ($0.05) per kilowatt hour.
Statistics from the National Climate Center show that China's technical exploitable capacity of deep-sea wind resources exceeds 2 billion kilowatts, indicating great potential for exploration.
It is hoped that the construction of the Haiyou Guanlan platform could promote breakthroughs in key technologies, major offshore equipment installation and integration of industrial chain resources in the Chinese deep-sea offshore wind power industry, and explore the integrated development of offshore wind power and offshore gas and oil production, said Yang Yun, executive vice-president of CNOOC and general manager of the corporation's new energy department.