China-South Asia Expo opened in Kunming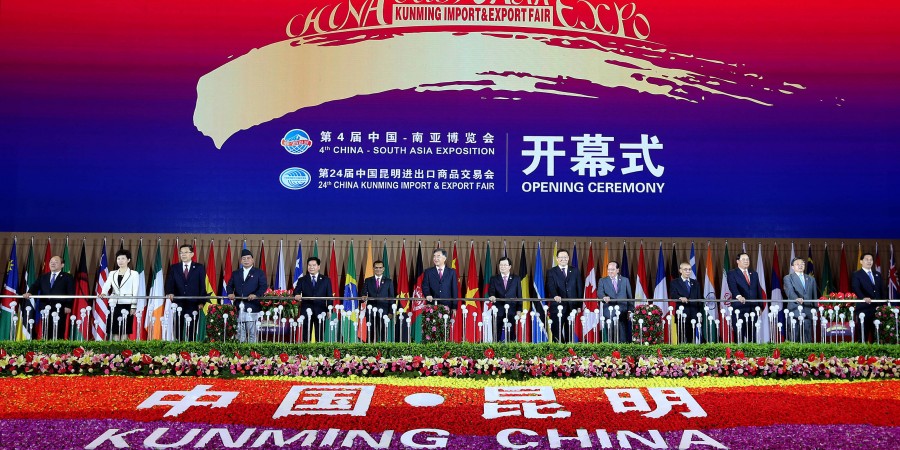 Ansar Mahmood Bhatti in Kunming
KUNMING, JUNE 12 (DNA) — The 4th China-South Asia Expo, aimed at boosting cooperation and development of the region, kicked off Sunday in Kunming, capital of southwest China's Yunnan Province. Pakistan's Federal Minister for Commerce Khurram Dastgir and Federal Minister for Science and Technology Rana Tanveer Hussian also attended the opening ceremony.
Wang Yang, the member of the Political Bureau of CPC Central Committee and Vice-Premier of China's State Council, attended the expo. Some state leaders from South-east Asian and South Asian countries also attended the expo on the day.
Themed on "Amity, Sincerity, Mutual Benefits, Inclusiveness and Win-win Cooperation", the 4th China-South Asia Expo and the 24th China Kunming Import and Export Commodities Fair are held to promote economy and trade exchange and cooperation between Yunnan and South Asian countries.
Compared with previous China-South Asia expos, the 4th China-South Asia expo lasts one day longer, from June 12 to 17. In the morning of June 12, the opening ceremony of the expo was held. From the afternoon of June 12 to the whole day of June 13, professional buyers attending the expo will make business negotiations on site of the expo.
Besides 35 ministerial-level officials, 24 foreign governors and mayors, including those from sister provinces and prefectures, 9 foreign ambassadors and 13 consul-generals in China will also be present at the events.
Guests from 89 countries and regions in Asia, Europe, America, Africa and Oceania have already confirmed their participation in the events, including exhibitors from 65 countries and participants from 72 countries. Businessmen from Pakistan have also established various stalls at the expo.
The total number of exhibitors will register about 5000, half of which are overseas ones. 155 renowned enterprises will join in the exhibition, an increase of 78% compared with 87 of last year. They are: 13 companies listed on the Fortune Global 500 like KIA, LG, Foxconn, Huawei, and China Resources, 10 of the Domestic Top 500 such as CRRC, Haier, Baidu, and Tencent, and other 68 prominent firms from both at home and abroad including Amore, Cuckoo, China Tower, and DJI-Innovations. Up to June 10, more than 74,000 tickets of the events have already been sold to the visitors".
The foreign-funded cooperation projects inked at the events will touch upon agriculture, manufacturing, new energy, tourism, environmental protection and information. Increasing number of businesses have been making the best of opportunities offered by the crucial platform of the Expo and the Fair, where various merchants are gathered, to vigorously attract investment and seek for cooperative partners, achieving targeted and pragmatic results.=DNA
==============