Chairman Senate criticises US, Western powers for practicing double standards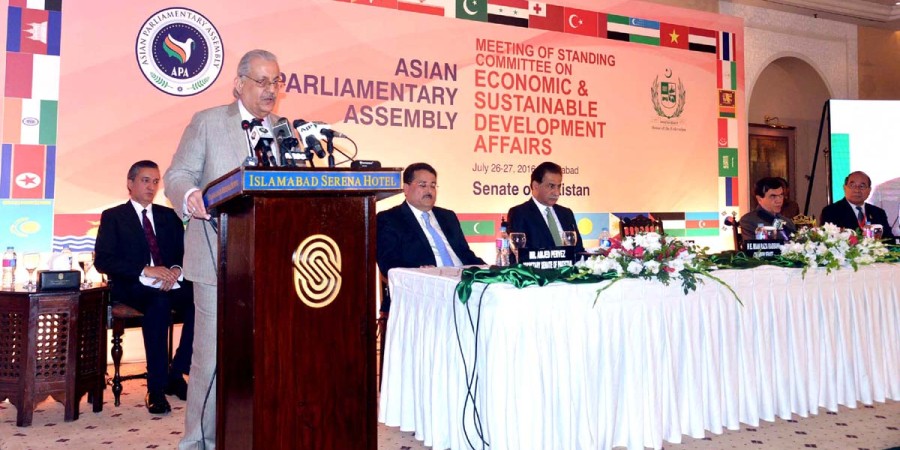 ISLAMABAD: Senate Chairman Raza Rabbani strongly criticised the double standards adopted by the United States and Western powers, saying "the contemporary upheaval and turmoil in Middle East is due to their policy of regime change".
The chairman senate said being a Pakistani he witnessed "Western double standards when they politically and economically supported dictatorial regimes in Pakistan and maintained silence over the unlawful prosecution of political workers".
Chairman Senate Rabbani's remarks came during a meeting of Senate Standing Committee on Economic and Sustainable Development Affairs of Asian Parliamentary Assembly in Islamabad on Tuesday.
During the meeting, it was observed that the future of Asia lies in the hands of Asian people.
Criticising the West on comments that Asian integration was not possible due to cultural, religious and social diversity, Chairman Senate said: "This is not true as we believe that the strength of Asia is its diversity and with diversity comes unity."
He admitted that there were issues which needed to be resolved in order to achieve equitable development and peace in the region.
"It is imperative for us to look at things in the right dimension," Rabbani said, urging the member countries to move forward for achieving the goal of "Asian Parliament".
Chairman Senate Rabbani proposed establishment of regional groups of Asian countries to chalk out modalities to achieve the objectives of "Asian Parliament".
Chairman Senate said the silence of torch bearers of human rights over violence in Palestine and India-held Kashmir is regretful.
At least 49 people have been killed in clashes in India-held Kashmir following the death of popular young separatist commander Burhan Wani in a gunfight with security forces on July 8.
More than 2,200 civilians have been injured in the latest clashes, including scores who were shot in the eyes with pellets by Indian troopers and have been blinded.
Large parts of the region remained under curfew for 17 days as mobile phone and internet networks remained suspended.
The clashes are the deadliest in since 2010 when massive demonstrations were staged against Indian rule.
Several rebel groups have been fighting for decades an estimated 500,000 Indian soldiers deployed in the region, demanding independence or a merger of the territory with rival Pakistan.
Tens of thousands of people, mostly civilians, have died in the fighting.