Most wanted terrorists in Karachi on the run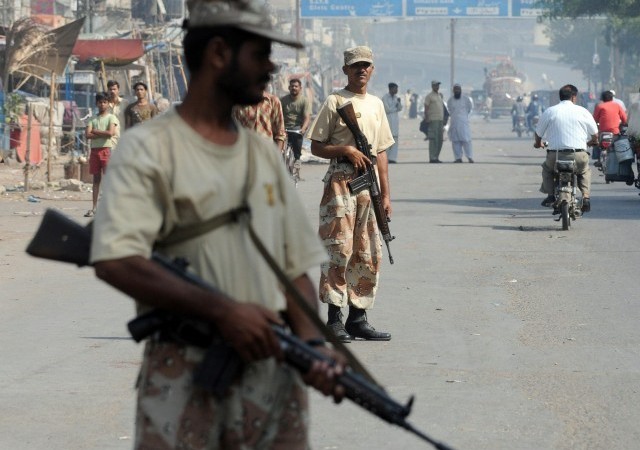 ISLAMABAD: Almost 75 percent militants on terror watch list for their alleged links with over a dozen proscribed organisations are untraceable in Karachi, some of them might be behind the recent wave of violence in the metropolis.
Official documents pointed out that the Sindh counterterrorism forces were unable to trace 142 out of 190 militants, who were listed to category 'A*', a term used for terrorists put on exceptional risk or high risk. The shocking revelations came a week after assassination of famous artist Amjad Sabri following kidnapping of Chief Justice Sindh High Court (SHC)'s son.
Six most wanted militants belonging to proscribed organizations were shifted to Holland, Bangladesh, Dubai, Ethiopia, United Arab Emirates and Afghanistan, revealed official documents.
Interviews with police officers and documents prepared by Sindh counter-terrorism forces further revealed that "there is a strong possibility that some of these militants must have planned to execute recent terror attacks in Karachi."
Around 38 militants listed to Schedule IV, an index issued by the government of high risk terrorists, are in various jails of Sindh, Khyber Pakhtunkhwa, Balochistan and Punjab.
Two militants from Sipah-e-Muhammad Pakistan (SMP) are in jails, three militants belong to Jaish-e-Muhammad (JEM), two had affiliation with Hizb-ul-Mujahiddin (HuM) and Jundallah, seven each from Sipah-e-Sahaba Pakistan (SSP) and Tehreek-e-Taliban Pakistan (TTP), eight militants belong to Lashkar-e-Jhangvi (LeJ) and one suspicious militant was put in Hyderabad Jail by the police.
Waliullah Awan, who is a said to be a ring leader of TTP, was picked up by Pakistan Rangers Sindh and presently he is detained in an unknown Detention Center of Pakistan Rangers Sindh, revealed the officials.
Sindh police put 27 militants of LeJ on watch list, 56 of SSP, 22 of SMP, two of Muhajir Qaumi Movement (MQM), six of Pakistan Sunni Tehreek (PST), one each belong to Khudamul Islam (KuI), Lyari Gangwar and Majlis-e-Wahadat-ul-Muslameen (MWM), eight of Hum, 15 of JEM, three of Jundallah, two of Jamaat-ud-Dawa (JuD) and 19 terrorists belonged to TTP.
Six 'Jihadis' who returned from Afghanistan are wanted by Sindh counterterrorism forces. They are also in search of 16 suspicious terrorists who went missing since years.
Mohammad Ilyas is at top of the list of these militants. Ilyas was playing a lead role for Afghan Taliban in Konduz, according to a document issued by Department of Defense, Joint Task Force Guantanamo.
He has been involved in recruitment techniques of the Tableeghi Jamaat and looking after its operations in Pakistan and Afghanistan. He was later transferred to Pakistan from Guantanamo and put in Karachi jail in 2004, read official documents. But he managed to flee from jail eight years back and has not been found since then.
The Sindh police was also searching for Zulqarnain Haider Naqvi who is founder of SMP and involved in many cases of sectarian killings and terrorism in Karachi and Punjab. Police sources said he shifted to Holland while government of Sindh also announced head money as well.
Hassan Raza Kashmiri alias Nana also wanted by the Sindh police, is among top leaders of SMP. But police sources said Hassan Raza Kashmiri fled away to Ethiopia on Passport No: CM-1792879 through an Emirates Airline flight in 2009. Provincial security forces, in a letter, requested Ministry of Interior for strict action against him.
Mamoon alias Bangali and Mohammad Anees, who are wanted to law enforcement agencies, fled away to Bangladesh. Both had returned from Afghanistan where they had been fighting against American forces. Counterterrorism forces asked Home Department Sindh to initiate the necessary action against them.
Jundallah Pakistan Commander Dr Akram is wanted by the Sindh police. He was arrested in Karachi soon after he returned from Afghanistan in 2001 and later managed to escape jail and flee to the United Arab Emirates. He returned to Pakistan was arrested, tried and convicted by an anti-terrorism court and sentenced but he managed to escape jail for a second time.
Central leader of Lyari Gangwar Shahid Bikik alias Bhai went underground after he was found involved in the blast and murder case of Bilal Sheikh (Coordinator of Bilawal House Karachi). An arrested accused namely Faraz alias Laddo alias Baloch disclosed during the course of interrogation that Shahid Bikik had provided him money to hire target killer Noman Kiala for killing, revealed official documents.
Senior commander of SSP Ghulab Khan, who was master planner of various sectarian attacks, shifted to Dubai. Gul Muhammad and Faisal of Muhajir Qaumi Moment, who were involved various crimes, shifted to unknown places.
Sohail Ahmed, Public Relations Officer Sindh Police, however, did not comment over the issue.
Former Inspector General Police Sindh Afzal Shigri believed that the police have to trace out sleeper cells these militants, who went underground. "It seems to be a failure of police as we fail to form a strong structure of law enforcing agencies," he said.