Campaign on "Women in Green Industry" launched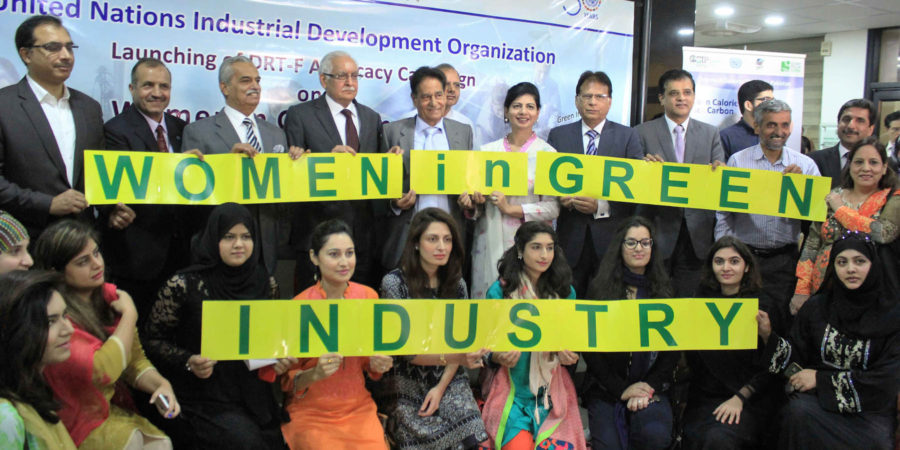 ISLAMABAD,OCT 25 (DNA) – Khizar Hayat Gondal, Federal Secretary for Industries & Production has said that government was working on a new SME policy in consultation with all stakeholders that would focus on mainstreaming women in SMEs, especially in green industry.
He was addressing as Chief Guest at the launching ceremony of Advocacy Campaign on "Women in Green Industry" which was organized by United Nations Industrial Development Organization (UNIDO Pakistan) in collaboration with Islamabad Chamber of Commerce and Industry under its Global Cleantech Innovation Program 2016.
The Federal Secretary said that women were 94 million of Pakistan's total population and their gainful employment, especially in green industry was of paramount importance for sustainable industrial development and more job creation. He said the new SME policy will address gender issues to enhance the role of women in entrepreneurial activities for their economic empowerment.
He assured that his ministry would fully support UNIDO in proper implementation of this initiative that will pave way for green growth and sustainable economic development of the country. He said that as green industry has the potential to deliver on both environmental and economic objectives of the economy through improved energy security and sustainable environment
Khalid Iqbal Malik, President, Islamabad Chamber of Commerce and Industry said that a growing body of evidence has shown that increased participation of women in SMEs has highly positive impact on the economic growth of a country and government should take strong policy measures to promote women entrepreneurship in the country.
He said access to Finance was major factor preventing women from starting their own businesses. He highlighted limited access to information and mentorship, small professional networks, limited business development skills, limited marketing platforms, social and cultural barriers etc. as other major hurdles in the wary of mainstreaming women in entrepreneurship.
He stressed upon the government to look into these issues for urgent remedial measures to create a conducive environment for women entrepreneurs in the country. He assured that ICCI would fully support UNIDO's mandate for green industry aiming at gender mainstreaming for inclusive industrial development.
Essam Alqarara UNIDO Representative said that the enabling policy environment coupled with deliberate action by government, private sector and development practitioners are necessary to utilize the full potential of women's participation in green growth.
He said that women are important agents of change and a more equal inclusion of both women and men would propel green industry leading to better development outcomes for the country.
The advocacy campaign is a first step towards more intensive interventions in the industrial sector of Pakistan to meet Vision 2025 and Sustainable Development Goals 2030 to ensure equal & full participation of women in development of Pakistan.=DNA
===============