Over 84 laptops distributed among AIOU students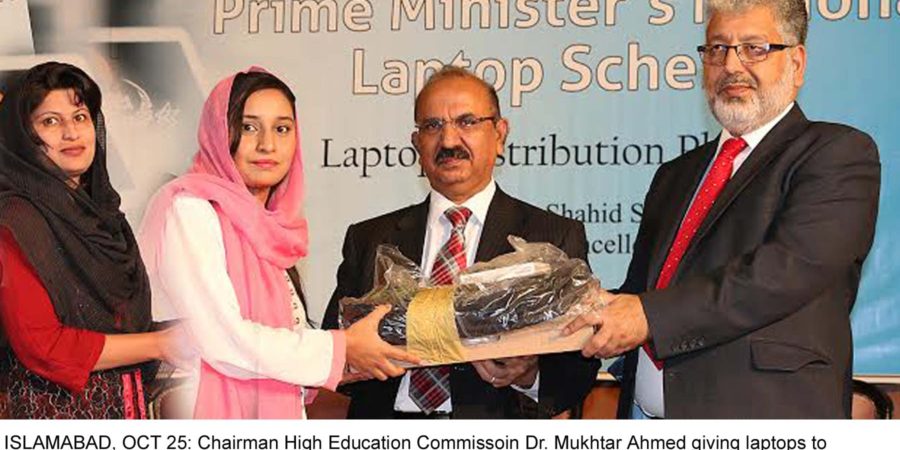 ISLAMABAD, OCT 25 (DNA) – " As many as 84 laptops under the Prime Minister's scheme Phase-II were distributed among the students of Allama Iqbal Open University (AIOU) at a ceremony held here on Tuesday.
The ceremony was presided over by the Chairman Higher Educational Commission (HEC) Prof. Dr. Mukhtar Ahmed, who elaborated on the occasion the government's youth welfare schemes, being implemented through the Commission.
Vice Chancellor AIOU Prof. Dr. Shahid Siddiqui thanked the government and the HEC for including the AIOU's students in the PM'S scheme. It was a great encouragement to those, who are engaged in upgrading their academic profile through distance learning system.
The total number of laptops given to the AIOU under the scheme phase-II is 940 that were being handed over to the M.Phil and PhD students at their respective regional offices.
The excited male and female students received the latest laptop machines with specifications enabling them to be both as a computer and as well as a notepad. In addition, an internet device was also the part of the package.
Addressing faculty and students, Dr Mukhtar Ahmed appreciated the AIOU for consistent efforts upgrading its academic output. He said, the PM's youth schemes mainly facilitate the people of low-developed regions and helped them to carry on their study at higher education level on government's expenses.
The enrollment of students in M.Phil and PhD programs got hundred time increase with the introduction of fee-reimbursement and other such schemes. The HEC, he added has been doing its best for efficiently implementing the schemes, assigned to it by the government.
Dr. Mukhtar Ahmed said, in all 2 lakh laptops will be distributed among the students in phase-2. Elaborating its unique features, he said mostly laptops have been assembled within the country by the Pakistani IT's companies.
HEC, he added, stands committed to facilitate the students of higher education learning so that they could able to take part in the country's socio-economic development.
Dr. Shahid Siddiqui in vote of thanks lauded the HEC's pro-Universities' role in providing necessary funding for carrying out research-oriented task. In this connection, the role of chairman HEC and his team is highly commendable, he added.=DNA