Blast near FC vehicle in Quetta kills 1 injures 4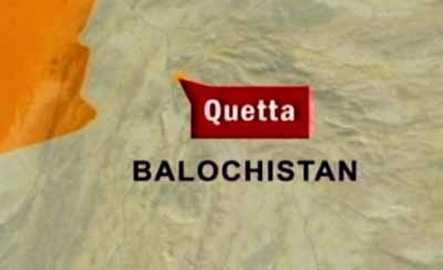 QUETTA: At least one person was killed and four others wounded in a blast near a Frontier Corps (FC) vehicle on Quetta's Qambrani road on Friday.
A police official told media that unknown militants targeted a convoy of FC vehicles through a remote-controlled bomb.
The bomb, which was planted on the roadside, was remotely detonated as soon as the FC convoy neared it.
At least five people were wounded in the blast who were shifted to Civil Hospital Quetta for treatment. One of the victims succumbed to his wounds during treatment.
Security sources said that three FC personnel were also among the injured. The blast cause minor damaged to a FC vehicle.
Bomb Disposal Squad officials said that 100 kilograms of explosives were used in the making of the bomb.
Police and security personnel reached the spot and cordoned off the area as a probe into the incident went underway.
Qambrani road is considered a sensitive area of Quetta where security personnel have frequently been targeted during the past ten years. =DNA
============