Bilawal vows 100% increase in salaries for govt employees as electioneering in full swing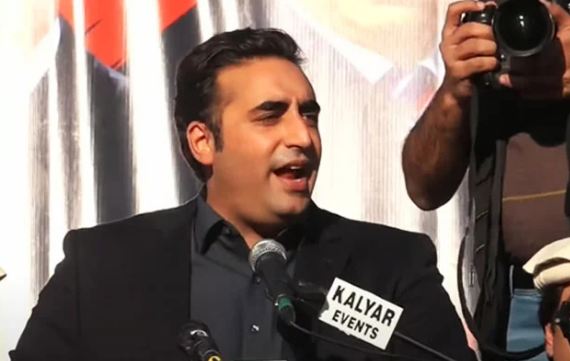 Upper Dir: As general elections draw closer, Pakistan Peoples Party (PPP) Chairman Bilawal Bhutto-Zardari Tuesday vowed to increase salaries for all government employees by a whopping 100% if his party was given another chance at power.
Addressing a public rally in Upper Dir, Bilawal said the PPP raised the salaries of government employees whenever his party came into power, reported.
In June 2010, the PPP-led federal government increased the salaries of public servants by 50% in their basic pay on an ad hoc basis, while the party claims it played a role in increasing the salaries of public servants up to 35% in the previous PDM-led government.
Blasting the caretakers, the PPP leader noted that inflation had soared to a historic level in the country, adding that unemployment and poverty were increasing on a daily basis. He went on to say that the incumbent rulers did not care about the people's sufferings.
"Politics of hatred and division" is harming the people, the PPP leader said, noting that the politicians would have to "leave such politics to steer the country out of the crisis".
Firing a fresh salvo at the "old politicians", the PPP leader said their "ego" was the root cause of all the problems. "They bent on personal enmity instead of political opposition."
Bilawal slammed the PML-N and clarified that his party supported the PDM-led government to solve the country's economic issues.
Addressing the power show, the PPP leader said: "You have seen the real faces of mehangai league [PML-N] and the PTI."
"You will have to give PPP a chance live given to Shaheed Bhutto"
He went on to say that PML-N and PTI have the same goal. The PPP chairman said that PML-N wanted to take revenge after coming into power. Bilawal said his party was unaware that the PML-N would take revenge when they were coalition partners.
Recalling his party's achievements, the PPP leader said that his father Asif Ali Zardari had introduced the 18th Amendment in the Constitution, while, other parties wanted to abolish the amendment and changes in the National Finance Commission (NFC) formula.
"We will implement the 18th Amendment and NFC Award after winning the election." He was of the view that the 18th Amendment and NFC Award were not fully implemented. The PPP leader called for unity in the fight against terrorism and inflation.