Asian Games a chance for China to break the ice with sports diplomacy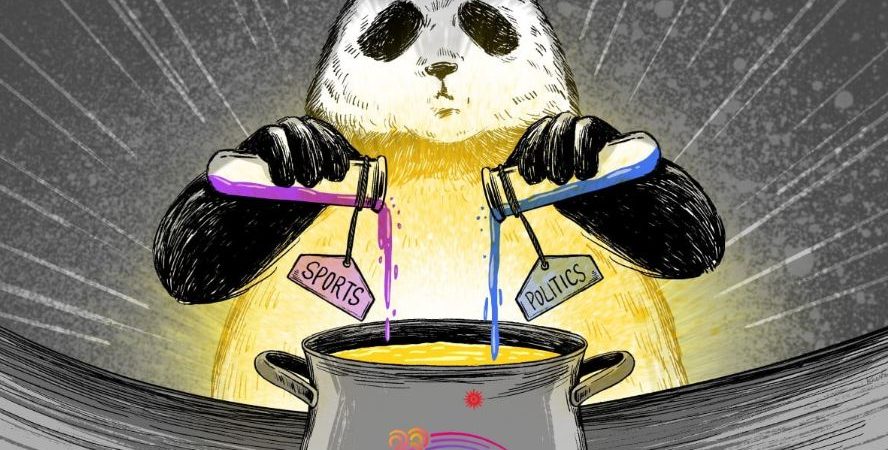 Beijing: With the biggest-ever Asian Games in full swing, host China has high hopes not only of dominating the medal table but also of softening its image and mending fences with its neighbours. Major sporting events offer a chance to rebuild trust and bridge differences, but observers warned the task of rebuilding relations through the 19th Asiad – delayed for a year by the Covid-19 pandemic – may prove particularly daunting for Beijing.
Ties with China's Northeast Asian neighbours are at a low point, amid the intensifying US-China feud, and there are also risks and challenges in mixing sport with politics, despite past successes, they said.
Ping-pong diplomacy famously helped to break the ice between China and the US in 1971 and the 2008 Summer Olympics in Beijing is still regarded as China's coming out party to the world.
More recently, in 2018 athletes from North and South Korea marched together under a unified flag, first at the Asian Games in Indonesia and then again at the Winter Olympics in South Korea.
Chinese President Xi Jinping opened the Games last Saturday in front of 80,000 spectators at Hangzhou Olympic Sports Centre Stadium in Zhejiang province, with more than a dozen foreign guests in attendance. Among them was South Korean Prime Minister Han Duck-soo and Syrian President Bashar al-Assad – on his first visit to China since his country's civil war began in 2011.
Nearly 12,000 athletes from 45 countries and regions are competing, including 200 representatives from Beijing's ally North Korea, whose presence marks an end to their country's sporting isolation of recent years.
While the unified Korean delegations five years ago helped to pave the way for multiple inter-Korean summits in 2018, they did little to change North Korea's hostilities towards the South or slow Pyongyang's development of nuclear weapons. In fact, relations on the Korean peninsula have become increasingly confrontational, with North Korea's leader Kim Jong-un last month calling for preparations for "a possible war".
Kim, an avid sports fan, was absent from the opening ceremony but speculation has been rife that he could yet visit China during the two-week long Games. Whether Beijing can achieve any lasting diplomatic dividend from the sporting spectacle remains to be seen, but observers noted that the event provides plenty of opportunities for engagement.
"Politicians love sports diplomacy because it provides a safe cover for diplomacy, especially when difficult and sensitive negotiations are necessary," said Seong-Hyon Lee, a senior fellow at the George HW Bush Foundation for US-China Relations.
"When nothing is accomplished, there is no one to blame. You can just say, 'Wow! It was a great game!'"
Lee said this was especially true for the host country, as there will be plenty of room for Beijing to deploy sports diplomacy during the Games. "However, we shouldn't put the cart before the horse. Sports should be sports," he said.
"Mixing diplomatic goals into athletic events can make them overly political, discouraging countries from taking part in the future. While diplomacy is important, sports should stay in the forefront." International relations professor Shi Yinhong from Beijing's Renmin University cautioned that China may not have much wiggle room when dealing with a challenging external environment on top of a litany of economic and political woes at home.
"As a bipolar order is emerging in Northeast Asia, China has to carefully manage its spiralling rivalry with the US and its key allies amid the many domestic challenges. I don't think the Chinese government would believe it has the luxury of making a big splash outside the country," he said.
While Han is the most senior South Korean official to visit China since President Yoon Suk Yeol took office, senior Japanese officials have stayed away.
Independent politician Hideaki Omura attended in his capacity as governor of the Aichi prefecture, which includes Nagoya, host of the 2026 Asian Games. China-Japan ties have been deteriorating in recent years, with Tokyo increasingly concerned about Beijing's sabre-rattling towards Taiwan. Beijing in turn has criticised Tokyo's moves to strengthen defensive ties with the US.
Relations took a further blow in August amid a diplomatic row over the release of treated waste water from the Fukushima nuclear plant, which was struck by a tsunami in 2011.
The Games became caught up in Chinese anger and concerns over the Fukushima release, when its official theme song went public on the same day as releases began in August.
Social media users in China were quick to spot irony in the song's opening line, which refers to "sharing the same sea and sky", with some calling for Japan to be banned from the Games.
Dolphins swim in the ocean during the official music video for "The Love We Share", the theme song of the Hangzhou Asian Games. Photo: YouTube/19th Asian Games Hangzhou
China has since toned down its rhetoric about the environmental impact of the discharge – perhaps because of the implications for its own seafood industry – and Japan's consulate-general in Hong Kong last week urged Beijing to work with Tokyo to tackle mutual concerns through "continuous communication".
Yuko Nakano, Japan Fellow with the Centre for Strategic and International Studies in Washington, noted that "the current for improving the China-Japan relationship is still flowing".
"I would not be surprised if a senior representative from Japan attends some of the Asian Games before it concludes on October 8, even if they are not able to make it to the opening ceremony," she said.
Chinese diplomatic sources said there had been discussions about Prime Minister Fumio Kishida or a senior cabinet minister attending, but these had been dropped because of the ongoing diplomatic tensions.
Japan's prime minister tucks into Fukushima seafood, vowing to overturn Chinese import ban
According to Stephen Nagy, senior associate professor at the International Christian University in Tokyo, China and Japan have tried to "engage in mutual face-saving exercises" during times of political turbulence.
At the same time, both sides have sought to "ensure that the economic relationship remains constructive and stable", he said, adding that countries like South Korea are likely to adopt a similar approach as they start to see a rising China "in a more realistic light".
"These countries will continue to try and balance their economic interests with their security imperatives," Nagy said.
US President Joe Biden (centre) greeting South Korean President Yoon Suk-yeol (left) and Japanese Prime Minister Fumio Kishida on August 18 at Camp David in Maryland. Photo: AP
Wooyeal Paik, an associate professor and deputy director of Yonsei Institute of North Korean Studies in Seoul, said the South Korean prime minister's attendance was particularly significant.
"By sending [Han] to attend the Asian Games, South Korea's leadership is sending a clear signal to Xi that it would like to reset and promote more productive bilateral ties after [consolidating] its trilateral relations with the US and Japan this year," he said.
Lee, from the George HW Bush Foundation for US-China Relations, agreed. "The choice of Han sends an unambiguously clear signal that South Korea's Yoon administration attaches great importance to its ties with China," he said.
Lee noted that Han was accompanied to Hangzhou by South Korean culture vice-minister Jang Mi-ran, who won weightlifting gold at the 2008 Beijing Olympics.
"This symbolism shouldn't be missed. Asian nations tend to employ symbolism to conduct diplomacy and express their intentions."
South Korean Prime Minister Han Duck-soo (left) is the highest-ranking Seoul official to meet Chinese President Xi Jinping since November. Photo: Xinhua
When Han and Xi met on Saturday afternoon before the opening ceremony, the Chinese leader said China and South Korea were friendly neighbours and "inseparable" economic partners.
Away from the Games, senior officials from China, Japan and South Korea met in Seoul and agreed on Tuesday to revive a long-stalled trilateral summit "at the earliest convenient time".
The agreement to work towards the three-way meeting will pave the way for a summit between Yoon and Xi, according to Lee.
"The expected Yoon-Xi summit … will be pivotal in terms of steering the South Korea-China relations back on track. I think the two neighbouring countries are realising that reducing misunderstanding is as important as increasing cooperation," Lee said.
While Yoon's Beijing-friendly predecessor Moon Jae-in visited China in 2017 and 2019, Xi has yet to pay a return visit to Seoul, though he extended an invitation to Yoon last year to visit "when convenient".
(From left) Nong Rong, China's assistant minister of foreign affairs, and his South Korean and Japanese counterparts, Chung Byung-won and Takehiro Funakoshi, arrive for a meeting in Seoul on Tuesday. Photo: AFP
Since then, Yoon's relations with Beijing have nosedived, following his efforts to patch up differences with Tokyo over wartime issues while seeking closer alignment with Washington on Taiwan and the South China Sea dispute.
According to Paik, the North Korea factor also played a role in the decision to send Han to China, following Kim's recent visit to Russia amid rumours about closer cooperation and a possible weapons agreement, denied by Moscow.
Han's presence at the Games "implies the South Korean government's understanding of the importance of the city and Zhejiang province for the current Xi leadership and ensuing intention to recover some damaged relations with its neighbours in the Chinese way", Paik said.
Kim pledges support to Putin over 'sacred' war with the West
Renmin University's Shi said Beijing should learn the lesson from last year's Winter Olympics, when Xi and his Russian counterpart Vladimir Putin announced a "no limits" partnership, days before Russia's invasion of Ukraine.
In the wake of closer military ties between Moscow and Pyongyang, "China will have to carefully handle the very complex trilateral relations [with] Russia and North Korea", regardless of whether Kim attends the Games, Shi said.
"In a very challenging overall environment, it is highly unlikely to achieve huge political results through a non-political event."
Paik also expressed doubts that the Games can yield a significant turnaround in China's relations with its neighbours.
"Sports diplomacy is pretty effective in many cases. Nevertheless, the growing distrust between China and neighbouring countries might be too much for sports diplomacy to overcome in 2023," he said.