Army sacrificing for the country, protection of people: UBG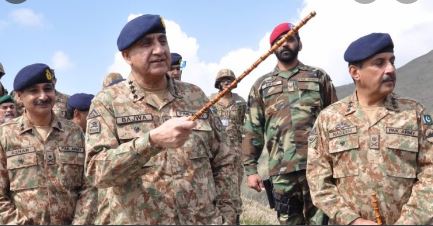 ISLAMABAD, FEB 6 /DNA/ – United Business Group President Zubair Tufail and former President of Islamabad Chamber Muhammad Ahmed have said that Pakistan Army is successfully dealing with internal and external threats.
 
The officers and soldiers are sacrificing their lives for the sake of Pakistan and the business community across the country appreciates the sacrifices of the Pakistan Army and stands by them in every difficult time, they said.
 
Paying glowing tributes to the Army and FC, Zubair Tufail, President of United Business Group, Muhammad Ahmed, former president ICCI and Malik Sohail, Chief Coordinator UBG, said that businessmen and industrialists stand shoulder to shoulder with their troops.
 
The Pakistan Army and the FC had overcome the scourge of terrorism after a hard struggle and great sacrifices, but now the issue is re-emerging, which has raised concerns among the masses.
 
Army officers and jawans are dealing with the chaotic situation, but the deteriorating law and order situation needs the immediate attention of the government, they said.
 
It was imperative for the government to take effective measures under an integrated strategy as those attacking security forces are enemies of Pakistan who have to be crushed without any delay.
 
The escalation of terrorist activities in the country over the last six months and the increasing number of casualties in recent days are unbearable, and the enemy must be crushed before it can become emboldened, the business leaders demanded.
 
Attacks on security forces in Balochistan have intensified and evidence of links with the enemy countries has been found which should be used to unmask the unholy designs of these countries.
 
Zubair Tufail, who is also the former president of FPCCI, Muhammad Ahmed and Malik Sohail, who has served as SVP of ICCI said, "We pay tribute to the security forces for repelling terrorist attacks in various places."
 
They noted that one of the main motives of the terrorists is to sabotage the relations between Pakistan and China and damage CPEC. Last year's attack on Chinese engineers working on the Dasu Dam project was also linked to it.
 
They noted that there were about 4,000 terrorist incidents in the country in 2013 which were reduced to 319 in 2020 but now they are increasing again. However, the people and business community are hopeful that Chief of Army Staff General Qamar Javed Bajwa has the ability to overcome this challenge.
 
He said that the army under the command of COAS would be successful in this test as well. He said that the nation would have to forget its differences and unite to improve the security situation in the country.
 
The business community hopes that the Pakistan Army will soon succeed in its mission to rid the country of terrorists.