Apex court gets 2nd female judge as Justice Mussarat Hilali takes oath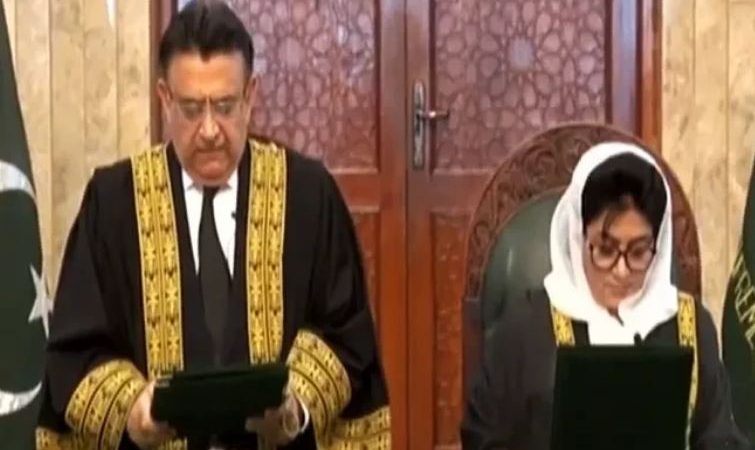 ISLAMABAD, JUL 7: The Supreme Court (SC) of Pakistan gained its second female judge on Friday as Justice Mussarat Hilali took oath.
Chief Justice Umar Ata Bandial administered the oath to Justice Hilali — who had been serving as the Peshawar High Court (PHC) chief justice — during a ceremony held at the ceremonial hall of the SC.
Attorney General for Pakistan Mansoor Usman Awan, senior judges and lawyers also attended the oath-taking ceremony.
After Justice Hilali's elevation, the number of top court judges has increased to 16 out of a total sanctioned strength of 17.
On Wednesday, President Dr Arif Alvi had formally appointed Justice Hilali as an apex court judge. The development had come a day after the Parlia­men­tary Committee on Judges' Appointments gave the nod to the unanimous approval given by the Judicial Commission of Pakistan (JCP) on June 14 to elevate the PHC CJ to the apex court.
Last year in January, Justice Ayesha Malik had taken oath to become the first-ever female judge to reach the apex court.
Who is Justice Hilali?
Justice Hilali was sworn in as the first woman chief justice of the PHC on April 1 after Justice Qaiser Rashid Khan retired from the post.
Following this development, she also became the second female judge to become the chief justice of a high court in Pakistan after Justice Tahira Safdar, the chief justice of the Balochistan High Court from September 2018 to October 2019.
Justice Hilali was born in Peshawar on Aug 8, 1961. She received her law degree from Khyber Law College, University of Peshawar, and was enrolled as an advocate of district courts in 1983. She was enrolled as an advocate of the high court in 1988 and that of the Supreme Court in 2006.
Justice Hilali has earned several distinctions in her career — first as a civil society activist and member of the bar and then her elevation to the bench. Known as an outspoken human rights activist, she remained office-bearer of the Human Rights Commission of Pakistan and also headed its KP chapter on different occasions.
Justice Hilali was an active member of the PHC Bar Association and served as its first female secretary, vice president and general secretary. She was also twice elected as an executive member of the Supreme Court Bar Association for 2007-8 and 2008-9.
She served as the first woman additional advocate general from November 2001 to March 2004 and as chairperson of the KP Environmental Protection Tribunal as well.
Justice Hilali was also the first provincial ombudsperson appointed in 2010 under the Protection against Harassment of Women at Workplace Act 2010. She was elevated to the bench as an additional judge on March 26, 2013, and was confirmed as a judge of the high court on March 13, 2014.
Additionally, Justice Hilali remained a focal member of the 2007 Lawyers' Movement — started after a reference was filed against then-CJP Iftikhar Mohammad Chaudhry — during which she courageously stood alongside the rest of the male-majority legal fraternity.
During that movement, one of her legs got fractured when police raided her residence for arresting her.