Amjad Sabri's killer reportedly arrested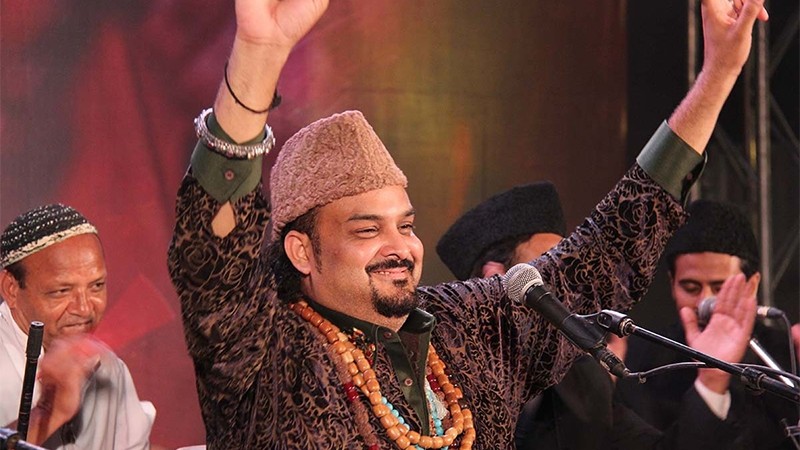 KARACHI: Reports of the arrest of a key suspect of Amjad Sabri's murder case were doing the rounds on TV outlets, however, the police and Counter Terrorism Department officials refused to confirm any arrest.
According to reports, Imran Siddiqui, a worker of a political party and an employee of District Municipal Corporation, was arrested during a raid in Surjani Town. Reports say that Siddiqui confessed to the killing and revealed the names of his companions.
He received orders via phone to kill Sabri. District Central SSP (investigations) Arib Maher and Counter Terrorism Department SSP (investigations) Naveed Khawaja who are investigating the high-profile murder did not confirm the arrest and said that there was no major development in the case.
Sabri was shot dead by motorcycle-borne gunmen in a central Karachi neighbourhood last month, triggering an outpouring of grief nationwide.
Sabri, aged around 45, was travelling from his home to a television studio to attend an iftar transmission, when a motorcycle pulled up alongside his white coloured Honda Civic and the two riders opened fire, according to police.
Sabri had hardly travelled a kilometre after leaving his house in the Liaquatabad neighbourhood when the gunmen targeted him. Another person travelling with him remained unhurt in the attack that also left a passerby woman injured.
Witnesses gave a slightly different account. "The motorcycle-riding attackers pulled up in front of Sabri's car right in the middle of the road at Liaquatabad underpass," a shopkeeper in the neighbourhood told media.
"One of them pulled out a gun from a black handbag. He fired shots into the air before turning his gun on the car," said the shopkeeper who didn't want to be identified by name. One attacker was wearing a helmet, while the other had his face covered with a handkerchief. They fled unidentified and unchallenged towards Hassan Square.
Grisly mobile phone footage of the crime scene shot by an onlooker and shared on social media showed Sabri's head slumped on his right shoulder and a pool of blood on the ground by the driver's side where he sat.
"Our preliminary examination shows he was shot thrice in the head, face and chest," said Dr Rohina Hassan, the additional police surgeon at the Abbasi Shaheed Hospital where Sabri was taken after a private hospital in Nazimabad confirmed his death. "Sabri's family was in shock. They did not allow us to perform post-mortem on the body," Dr Rohina said.
Police investigators found nearly half a dozen bullet casings at the crime scene which were subsequently sent for forensic examination. According to investigators, 9mm pistol was used in most previous targeted attacks, but assassins used a 30 bore pistol to target Sabri – which is rare.
"Our preliminary investigation shows that the attackers followed Sabri from his home," said District Central police chief SSP Muqaddas Haider. "It was a targeted killing and an act of terrorism," Haider said, without naming possible suspects. However, police mounted a crackdown after the killing and detained around a dozen suspects for questioning. Police investigators could not get any help from CCTV cameras installed at the crime scene because all of them are out of order.
MQM leader Dr Farooq Sattar and colleagues said Sabri was receiving life threats, but the Karachi police spokesperson said the qawwali maestro had never reported any threats.