American Embassy, National Library discuss SDGs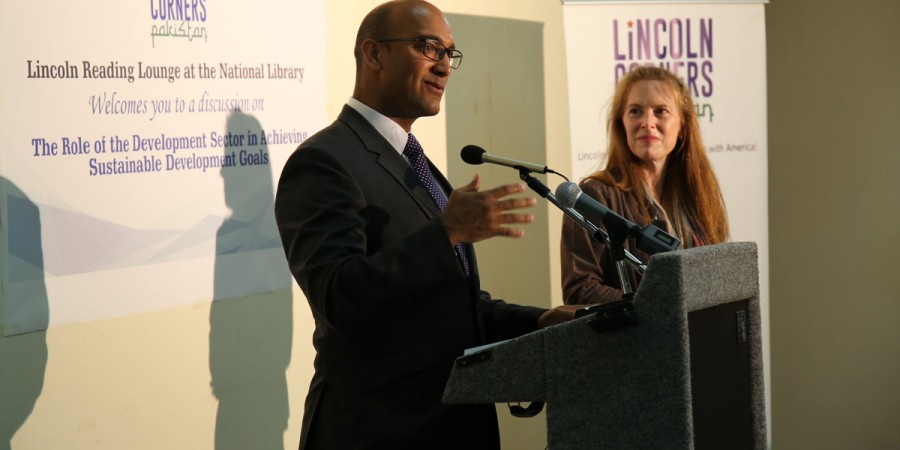 ISLAMABAD, 19 MAY (DNA) – The American Embassy's Lincoln Reading Lounge and the U.S. Agency for International Development (USAID) have hosted the discussion, "The Role of the Development Sector in Achieving Sustainable Development Goals," at the National Library of Pakistan.
More than 100 senior professionals from Pakistan's development sector and professors and students from Quaid-e-Azam University participated.   American Embassy Counselor for Public Affairs Christina Tomlinson opened the session by highlighting the United States and Pakistan's shared commitment to achieving Sustainable Development Goals, as outlined by the United Nations in 2015.
"The United States and Pakistan are partners in the UN Sustainable Development Goals and advancing Pakistan's development, because we believe in Pakistan's future, and believe that a prosperous Pakistan is in the interests of the United States, the region, and especially the people of Pakistan," Tomlinson said.
Dr. Edward Gonzalez, Deputy-Director of USAID's Office of Stabilization and Governance, gave an overview of development in Pakistan and stressed the need for participation across all sectors of society.
"A prosperous Pakistan will be achieved when we are all a part of development efforts.  Men, women, youth, and vulnerable populations must be a part of building a secure and flourishing Pakistan," Gonzalez said.  Natasha de Marcken, Director of USAID Pakistan's Education Office, discussed the importance of education in development.
  "Education and human capacity are the foundations for each sustainable development goal.  It is essential to support early learning and literacy in order to give everyone the opportunity to succeed in school and to meaningfully contribute to their communities," she said.  Suhail Awan, Executive Director, Human Resource Development Network, also spoke at the event.  DNA