Ambassador Isiaka Abdulqadir visits FPCCI Capital Office in Islamabad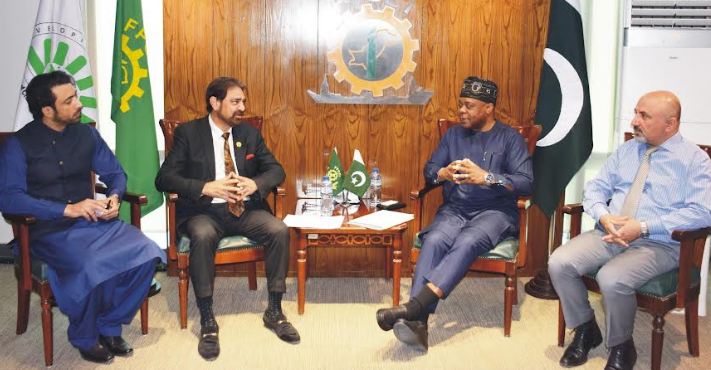 ISLAMABAD, MAR 10 /DNA/ – Ambassador Isiaka Abdulqadir Imam Secretary-General of the D-8 Organization for Economic Cooperation visited FPCCI Capital Office Islamabad to meet Irfan Iqbal Sheikh President FPCCI Mr. Umar Masood ur Rehman Vice President FPCCI and Mr. Aminullah Baig, Vice President FPCCI/Incharge Capital Office Islamabad. During the meeting, they shared various potentials and opportunities of cooperation within the D-8 countries, and highlighted the importance of this cooperation for strengthening the economic security of the D-8 member countries. They also discussed the role of the D-8 Chamber in promoting the intra-trade activities among these countries.
Mr. Irfan Iqbal Sheikh, President, The Federation of Pakistan Chambers of Commerce and Industry (FPCCI) stated that both manufacturing and trading sectors have huge potential for cooperation among D-8 and it is the time to come closer for the developing countries as economic powers are shifting away from Europe. He stated that Pakistan's vision for geo-economics had socio-economic growth, connectivity, and development at its core.
Further, Mr. Irfan Iqbal Sheikh, President FPCCI, has stressed the need to implement the D-8 PTA at the earliest and in its true spirit, as regional trade will bring prosperity and economic cooperation in the entire region. He added that regional economic blocks have up to 70 – 75 percent of their total trade intra-regionally and, we are still stuck at a meager 4.5 percent. He has apprised that D-8 includes seven other very important countries for Pakistan economically for trade, investment and joint ventures; i.e. Bangladesh, Indonesia, Egypt, Iran, Malaysia, Nigeria and Turkiye.
Mr. Amin ullah Baid, Vice President, FPCCI & Incharge Capital Office said that the D-8 block represents more than 5 percent of the global GDP, which makes the alliance a significant one for the D-8 countries in particular and the entire region in general. He explained that only if we can capture the D-8 market in value-added textiles; IT & ITeS services, sports goods, rice, fruits & vegetables & surgical equipment and construction materials Pakistan can enhance its exports by $5 – 10 billion within 2 – 3 years.
Mr. Umar Masood Ur Rehman Vice President FPCCI called for creating a Private Sector Coordination Facility to boost economic cooperation amongst the Developing Eight (D-8) countries. He called for creating a conducive environment for trade through facilitative legal frameworks, and equal opportunities for investment and business. Through cooperation and partnerships, the D-8 countries can realize their true economic potential. He highlighted that Pakistan's location afforded critical overland and maritime connectivity to key regions of Asia – Central Asia, South Asia, the Middle East, and China – that made Pakistan geo-politically among the most pivotal states in the world. We were confident that through the China-Pakistan Economic Corridor (CPEC), this geo-political asset will rapidly turn into a geo-economic dividend.
Ambassador Isiaka Abdulqadir Imam Secretary-General of the D-8 Organization for Economic Cooperation stated that D-8 platform expands the level of innovation in the Member States in order to bring about economic growth which is essential for the sustainable development of the D-8 Member States. He also stressed the crucial importance of collaboration between and among the D-8 Member States in activities of science, research, and technology in order to build their own technologies for their survival, providing sustainable economic development and meaningful participation in Global Value Chains in the world with the necessity of capacity building in relevant areas.
During a visit to the FPCCI Capital Office in Islamabad, he stressed the need for expanding the scope and range of cooperative activities in very concrete terms. He said that the priority areas during the 8th secession included trade, agriculture and food security, industrial cooperation and small and medium scale enterprises, transportation, energy, and minerals. He said that the vision of D-8 focuses on promoting trade and economic relations with member countries as well as making harmony with the developed world.