PM urged to take concrete measures for Aafia Siddiqui release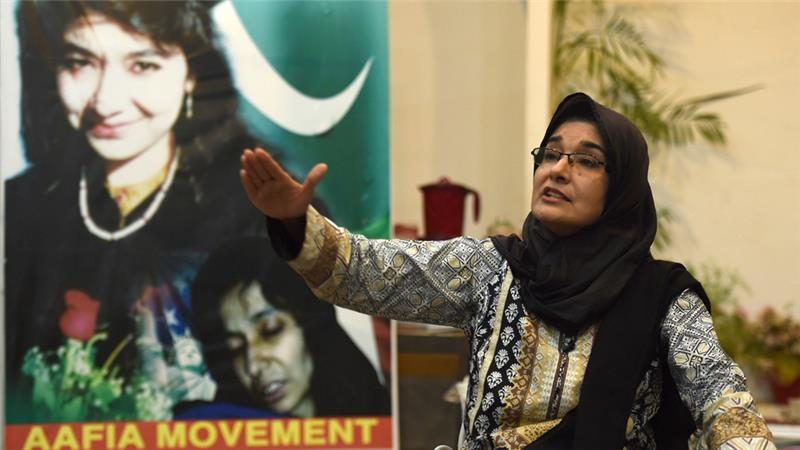 KARACHI, 09 OCT, (DNA) – On the occasion of the World Post Day observed on Sunday, the officials of Aafia Movement Pakistan dispatched an open letter to Prime Minister Muhammad Nawaz Sharif, seeking his due role in the early release of Dr Aafia Siddiqui.
Writing and sending letters is the oldest means of communication and contacts. Every year on October 9, the World Post Day is celebrated in whole world including Pakistan. On this day, civil society members staged a protest demo at an 86-day Dr Aafia release token hunger strike camp on its 22th consecutive day before the Karachi Press Club (KPC). They displayed an 8×4 feet size large postal envelope carrying an open letter to the Prime Minister Mian Muhammad Nawaz Sharif.
The letter said, Prime Minister, Muhammad Nawaz Sharif, as you had called Dr Aafia Siddiqui the daughter of the nation and after coming into power in 2013 had met the mother of Dr Aafia, and Mariam, the daughter of Dr Aafia, at the Sindh Governor House and promised that you would bring Aafia back home in 100 days. Today, more than three and half years have already passed to your his promise. Do you know where is the daughter of the nation, Dr Aafia, and in which conditions?
"The demand for the repatriation of Dr Aafia is not only raised in Pakistan but also at international level. The token unger strike of the volunteers of Aafia Movement has been continuing for 22 days in front of the Karachi Press lub and for 37 days in front of the Hyderabad Press Club," it said.
"The international political analysts say that the hurdle in release of Aafia Siddiqui is not in the US but in Pakistan," the letter said.
"The nation wants to know about the elements, who are the hurdle to the repatriation of innocent Aafia? This also shows that you seem not concerned about the problems of common Pakistanis," it said.
"Sir, by not giving protection to the innocent daughters, you are violating the sacred oath that had granted you the honor to become the rulers of the atomic power, Islamic Republic of Pakistan and made you the defender and guardian of 18 Crore Pakistanis. If you honor your oath, Allah, the Almighty, would bestow you with the shadow of the heaven on the doomsday, as on this day there would be no shadow saving the shadow of the heaven of Allah," the letter said. =DNA