Nearly 400 die as Myanmar army steps up crackdown on Rohingya militants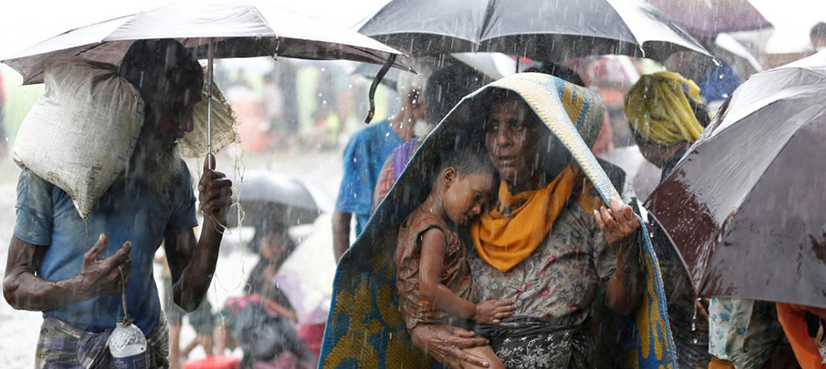 COX'S BAZAR, SEPT 01 (DNA) – Nearly 400 people have died in fighting that has rocked Myanmar's northwest for a week, new official data show, making it probably the deadliest bout of violence to engulf the country's Rohingya Muslim minority in decades.
Around 38,000 Rohingya have crossed into Bangladesh from Myanmar, United Nations sources said, a week after Rohingya insurgents attacked police posts and an army base in Rakhine state, prompting clashes and a military counteroffensive.
"As of August 31, 38,000 people are estimated to have crossed the border into Bangladesh," the officials said on Friday, in their latest estimate.
The army says it is conducting clearance operations against "extremist terrorists" and security forces have been told to protect civilians. But Rohingya fleeing to Bangladesh say a campaign of arson and killings aims to force them out.
The treatment of Myanmar's roughly 1.1 million Rohingya is the biggest challenge facing national leader Aung San Suu Kyi, accused by some Western critics of not speaking out for a minority that has long complained of persecution.
The clashes and ensuing army crackdown have killed about 370 Rohingya insurgents, but also 13 security forces, two government officials and 14 civilians, the Myanmar military said on Thursday.
By comparison, communal violence in 2012 in Sittwe, the capital of Rakhine, led to the killing of nearly 200 people and the displacement of about 140,000, most of them Rohingya.
The fighting is a dramatic escalation of a conflict that has simmered since October, when similar but much smaller Rohingya attacks on security posts prompted a brutal military response dogged by allegations of rights abuses.
Myanmar evacuated more than 11,700 "ethnic residents" from the area affected by fighting, the army said, referring to the non-Muslim population of northern Rakhine.
More than 150 Rohingya insurgents staged fresh attacks on security forces on Thursday near villages occupied by Hindus, the state-run Global New Light of Myanmar said, adding that about 700 members of such families had been evacuated.
"Four of the terrorists were arrested, including one 13-year-old boy," it said, adding that security forces had arrested two more men near a Maungdaw police outpost on suspicion of involvement in the attacks.
About 20,000 more Rohingya trying to flee are stuck in no man's land at the border, the U.N. sources said, as aid workers in Bangladesh struggle to alleviate the sufferings of a sudden influx of thousands of hungry and traumatized people.
While some Rohingya try to cross by land, others attempt a perilous boat journey across the Naf River separating the two countries.=DNA
===========