prevented Indian submarines from entering Pakistani water: says Navy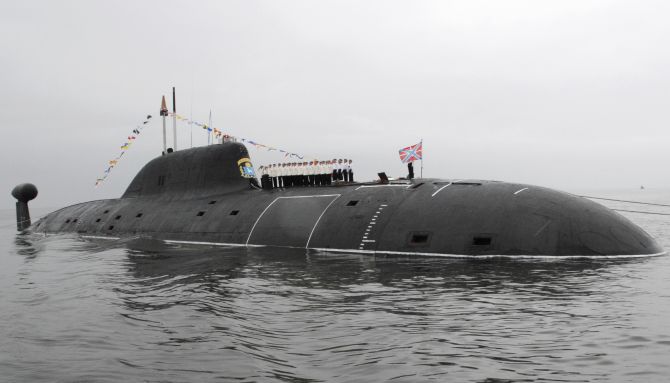 (DNA) NOV 18 – The Pakistan Navy on Friday said it had prevented Indian Navy submarines from entering Pakistani territorial waters.
"The Indian Navy, in order to fulfil its nefarious designs, was deploying submarines. The Pakistan Navy, alert and using its extreme skill, prevented Indian submarines from entering Pakistani waters."
"Pakistan Navy fleet units detected the presence of Indian submarines in the southern parts of Pakistani waters, mimiced their behaviour and restricted their activity," the statement said.
The Pakistan Navy prevented the Indian submarines from being successful in their attempts to keep their presence a secret, the statement said, adding that the navy had constantly pursued the submarines and pushed them back.
"This is proof of Pakistan Navy's extremely skilled anti-submarine warfare units," the navy said.
"The Pakistan Navy is fully prepared to defend its borders and capable of responding to any aggression befittingly."
Indian Prime Minister Narendra Modi stepped up a drive to isolate Pakistan diplomatically after the Uri army base attack in September. Hours after the attack occurred, Indian Home Minister Rajnath Singh termed Pakistan a 'terrorist state' and accused Pakistan of involvement.
The Uri attack occurred days before Prime Minister Nawaz Sharif was set to address the United Nations General Assembly regarding Indian human rights violations in held Kashmir.
Following the attack, India claimed it had conducted a cross-border 'surgical strike' against 'launch pads of terror' in Azad Jammu and Kashmir — a claim Pakistan has strongly rejected.
Since then, both countries have intermittently exchanged fire over the Line of Control, with seven Pakistan army soldiers becoming the latest in a series of casualties in the cross-fire confirmed by the Pakistan Army.
Pakistan has lodged several protests with India over repeated violation of the ceasefire agreement and targeting of civilians and soldiers along the border in the past few weeks.=DNA