10 of a family burnt alive in Lahore house blaze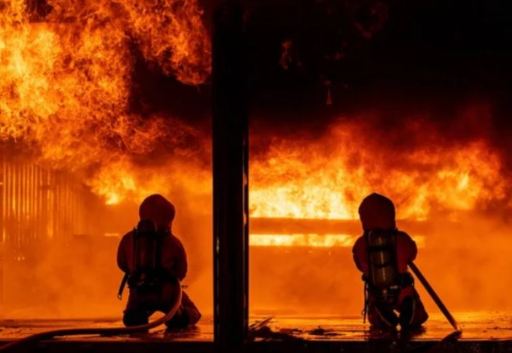 Abbas Hashmi / DNA
LAHORE, At least 10 members of a family were killed when
their house inside Bhati Gate caught fire in the wee hours of Wednesday.

According to initial reports, a fire broke out in the house in Mohallah
Samian in Bhati Gate area due to a short-circuit. Ten members of the
ill-fated family including women and children were burnt alive.

Rescue officials confirmed that the fire broke out due to an explosion
in fridge's compressor. They said the house had no ventilation to let
the smoke out.

Teams of fire-fighters and Rescue 1122 reached the spot and brought the
fire under control after some time. The rescue teams shifted the dead
bodies to a hospital.

Some of the deceased were identified as Adil Hussain, Saira Bano,
Farzana, Amber, Ghazal, Fatima, while the identification of the
remaining was underway.

Police said that the bodies of the deceased will be handed over to the
heirs after completion of identification and medico-legal formalities.
Meanwhile, the rescue team said that the cooling process of the burnt
building was underway.

Prime Minister Shehbaz Sharif expressed "deep sorrow and grief" over the
incident and "prayed for the departed souls".

Meanwhile, Punjab's interim chief minister Mohsin Naqvi has taken notice
of the matter and sought a report from the Lahore commissioner on it.

He ordered a comprehensive investigation into the matter and offered his
condolences to the heirs of the deceased family.

Prime Minister Shehbaz Sharif has expressed deep grief and sorrow over
the loss of lives in a tragic house blaze incident.

According to the statement issued by the media wing of the Prime
Minister's Office, the PM prayed for the departed souls to rest in peace
and for the grant of patience to the bereaved family.

Istehkam-e-Pakistan Party (IPP) President Abdul Aleem Khan also
expressed his heartfelt grief over the loss of lives. "The loss of
innocent and precious lives is deeply painful, and we pray that Allah
grants the deceased a place in His mercy," he took to Twitter and
penned.

Mr Aleem stressed the importance of implementing and enforcing
regulations to ensure the safety of citizens. "Rules and regulations
should be strictly implemented for the protection of citizens," he
demanded. He also emphasized the heightened risks citizens face during
rainy and severe weather conditions.

Supporting the call for stricter regulations, the senior politician
called on citizens to take full responsibility for their safety by
adhering to safety measures. He urged individuals to remain vigilant and
cautious to prevent any untoward incidents.