Zambian police deny firing at opposition leader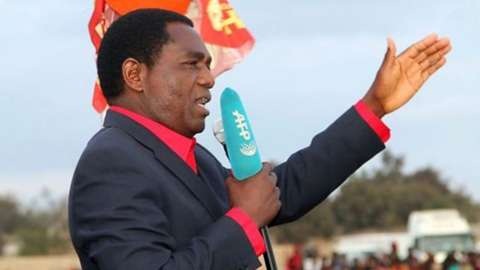 Zambian police chief Kakoma Kanganja has denied reports that the country's security forces fired on a convoy carrying opposition presidential candidate Hakainde Hichilema amid a tense atmosphere ahead of the 12 August general election.
The local media reported on Sunday that Mr Hichilema's convoy was fired at by police in the northern city of Chingola on its way to a local church.
Zambia's police boss denied the reports, saying "at no point did the police fire live ammunition" at the opposition leader's supporters.
The government has banned public gatherings and political rallies, with President Edgar Lungu saying the restrictions are necessary to combat Covid-19.
The opposition, however, believes the bans are a ploy by the incumbent to maintain his grip on power.
Mr Hichilema, a wealthy businessman, is the main opposition candidate in the August election.