Zaheer Ahmed receives trafficking in persons prevention award from U.S. Secretary of State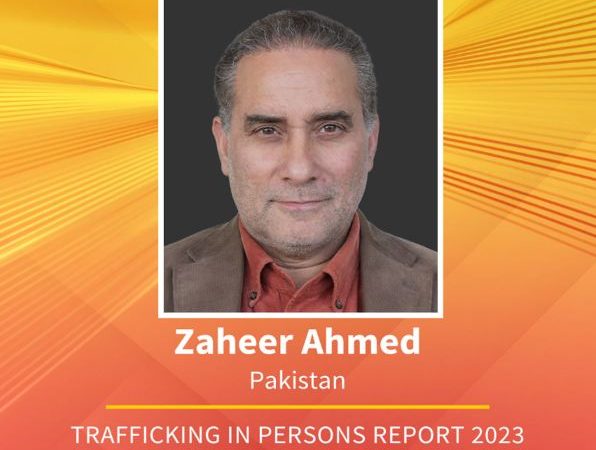 Islamabad, JUN 16: /DNA/ – Zaheer Ahmed, a Pakistani law enforcement officer, was presented with the prestigious Trafficking in Persons (TIP) Hero award by U.S. Secretary of State Antony Blinken in a June 15 award ceremony in Washington, DC. This annual award brings international attention to the fight against human trafficking. Officer Ahmed was recognized for his efforts in guiding the Government of Pakistan's implementation of anti-trafficking in persons reforms, his leadership in capacity building, and his training initiatives. These efforts were instrumental in Pakistan's promotion from TIP Tier 2 Watchlist to Tier 2 in 2022.
Zaheer Ahmed is a former director of the Federal Investigative Agency's Anti-Human Smuggling Unit and is passionate about stopping human trafficking in all its forms. Within Pakistan, he raised awareness of this global issue and how it disproportionately affects the most vulnerable Pakistanis. His unwavering commitment and innovative approach increased collaboration between Pakistani law enforcement agencies and civil society, leading to improved recognition of TIP and identification of TIP victims.
As the director of the FIA's Anti-Human Smuggling Unit, Ahmed was at the forefront of numerous training and capacity building initiatives for law enforcement agencies, social welfare, and other partners on preventing, identifying, and assisting with TIP cases. Ahmed's efforts extended to local and international advocacy groups, forming strategic partnerships and fostering a united front against human trafficking. His hard work was pivotal in influencing policy reforms and strengthening legal frameworks in Pakistan. Thanks to Ahmed and other Pakistani government officials, Pakistan ratified the UN Protocol to Prevent, Suppress, and Punish Trafficking in Persons in 2022.
Upon receiving the award, Ahmed expressed his gratitude, recognizing all the colleagues he has worked with, "This award is a testament to the resilience and strength of our teamwork. I am humbled and honored to receive this recognition, and I will continue to fight alongside my peers until human trafficking is eradicated from our world."
The TIP Report Hero award acknowledges the exceptional efforts of individuals like Ahmed, whose dedication and determination inspire other individuals to act. Ahmed's unwavering commitment to the cause has earned him the respect and admiration of his peers, and he will now begin an International Visitor Leadership Program tour of the United States, meeting and learning from fellow anti-TIP leaders.