Youm-e-Ashur processions culminate peacefully across Pakistan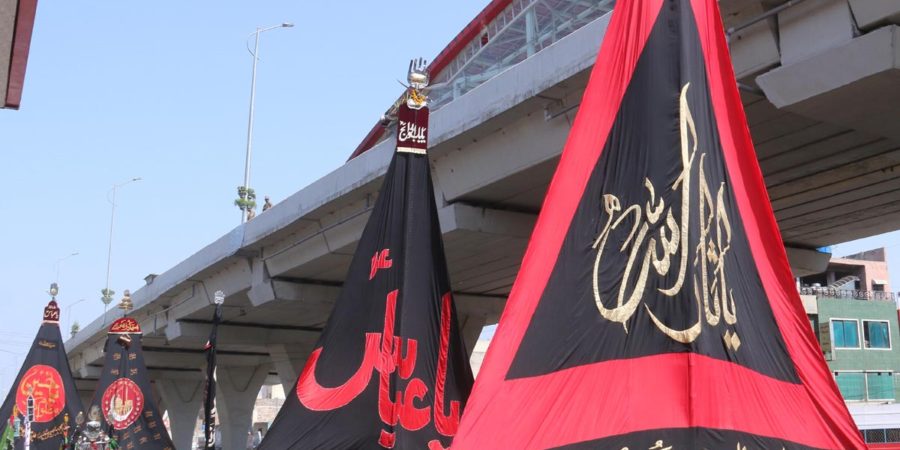 KARACHI: Processions across the country culminated peacefully as people observed Youm-e-Ashur on Wednesday to pay homage to the sacrifices of Hazrat Imam Hussain (RA) and his companions, amid stringent security measures in place.
The main procession in Karachi was taken out from Nishtar Park and made its way through the city's MA Jinnah Road to culminate at Imambargah Hussainia Iranian, Kharadar. In Lahore, the Youm-e-Ashur procession passed through traditional routes to reach Karbala Gamay Shah.
The procession in Rawalpindi concluded at the Qadeemi Imambargah, while processions in Faisalabad and Multan also reached their destinations peacefully.
The day was observed to commemorate the supreme sacrifice rendered by Hazrat Imam Hussain (RA) and his companions in Karbala to uphold the truth.
Alam, Zuljinah and Taazia processions were taken out in all big and small towns across the country, with Ulema and Zakireen highlighted the teachings of Hazrat Imam Hussain (RA).
Corps commander visit Rangers headquarters in Karachi
Corps Commander Karachi Lieutenant General Naveed Mukhtar visited the Ranger headquarters in Karachi to review the security situation. Sources said that the DG Rangers briefed the Corp Commander over the security arrangements made in the route of the procession.
Cameras have been installed at 275 places to monitor the processions and more than 15,000 policemen have been deployed to ensure safety of the participants of the rally.
The rally passed through Numaish Chowrangi, M.A. Jinnah Road, Imam Bargah Ali Raza, Sea Breeze, Empress Market, Regal, Tibet Centre and Bolton Market to conclude at the Hussainia Iranian Imam Barga at Kharadar.
Mobile phone services in several cities in Sindh including Karachi and Hyderabad were suspended from 12 till 7:30 PM in view of the security situation.
Sindh Chief Minister Murad Ali Shah visited the central procession in Karachi saying that he was personally monitoring the security situation. He added that there were security threats in the province.
Chief Minister Murad Ali Shah also visited Jacobabad to review the security arrangements. He also paid a call on relatives of the victims of last year's Muharram 9 blast there.
Commander Southern Command reviews arrangements in Quetta
Commander Southern Command Lt. Gen. Amir Riaz visited the control room at the Police IG office along with interior minister Sarfaraz Bugti and Chief Secretary. He was briefed over security arrangements made at the for the Ashura procession.
The central Ashura procession reached the Bacha Khan Chowk where mourners offered the Zuhrain prayers led by Allama Hashim Mosavi.