Workshop on 'Enhancing SDG6 Water Quality Monitoring in Pakistan' funded by KOICA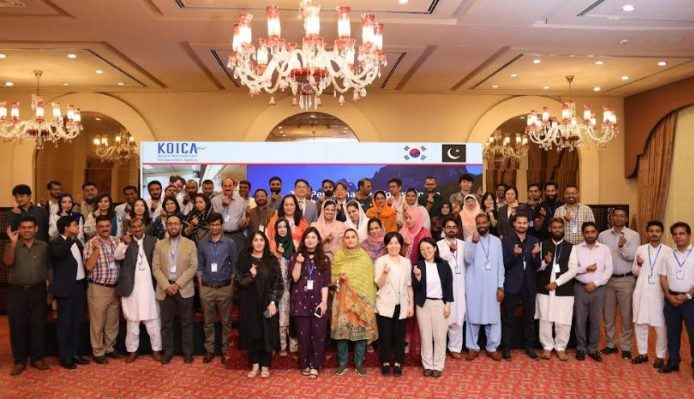 DNA
ISLAMABAD, SEPT 20: The workshop for the 'Enhancing SDG6 Water Quality Monitoring in Pakistan' project held at a local hotel in Islamabad place on September 20th, 2023. The event witnessed the participation of Deputy Director Jawad Rabbani from the Ministry of Planning Development and Special Initiatives (MOPD&SI) and Country Director Je Ho Yeon from the Korea International Cooperation Agency (KOICA).
The workshop was structured into four key sessions: Introduction to the KOICA Project led by KOMIR, Enhancing Water Quality Systems in Pakistan to Achieve SDG6 Reporting led by PCRWR, Suggestions for Improving Pakistan's Legal and Administrative Systems related to SDG6 led by K-Water and MIS for KP & Enhancing Water Quality Systems to Achieve SDG6 in Pakistan led by PHED KP.
Q&A and discussion sessions were followed by each session. This workshop provided a valuable opportunity to share the progress of this project and strengthen cooperation between MoCC and KOICA.
This $7.42 million project, spanning from 2019 to 2024, aims to enhance the capacity of the Government of Pakistan to achieve SDG 6. KOICA has invited 31 government officials to Korea to observe the management of water quality in Korea. Additionally, KOICA is providing water quality testing equipment to 44 laboratories of the Public Health Engineering Department (PHED) in Punjab and KP provinces, as well as 2 laboratories of Pak-EPA and PCRWR.
Recently, the Management Information System (MIS) for KP province has been established and tested. Furthermore, this project will offer consultations on water quality management and suggestions for water-related policy and legislation in Pakistan.
KOICA, a grant agency of the Korean government, has a successful track record of implementing various projects in the fields of water, energy, and rural development in Pakistan.
KOICA collaborates with KOMIR, K-Water, GDC Consulting, and UNOPS to execute the SDG6 Project aimed at enhancing the capacity of water quality monitoring in Pakistan.