Whirling dervishes swirl the souls of devotees at PNCA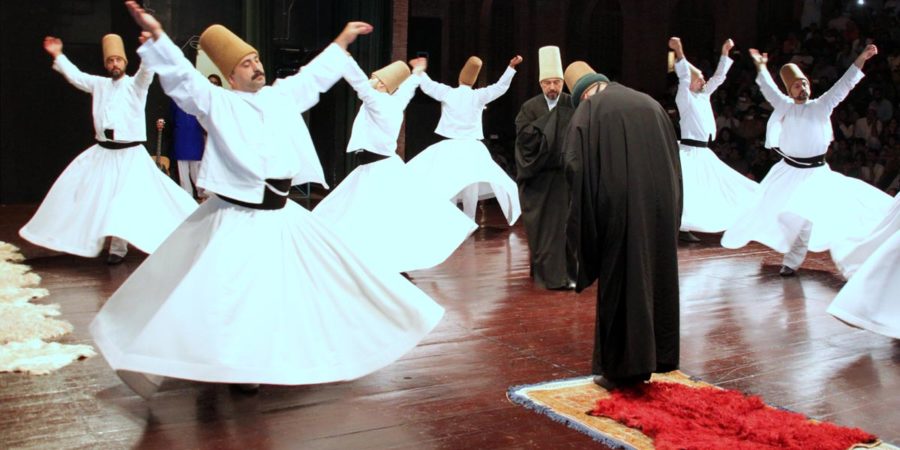 ISLAMABAD, AUG 14 (DNA)- The whirling dervishes from the brotherly country Republic of Turkey swirled the souls of devotees with their affectionate performance  at the Pakistan National Council of the Arts (PNCA).
Specially flown from Istanbul to participate in the 70th Independence Day celebration of Pakistan, the Istanbul Historical Turkish Music Ensemble attracted a huge crowd to the Grand Music Show, one of the month-long series of events being organized by the PNCA to mark the Pakistan's Independence Day.
A 30-minute performance was an unusual experience of spiritual journey of tranquility, peace and fulfillment.
The ensemble, which was started in 1991 by Republic of Turkey, Ministry of Culture, has been founded to present the original style and performance characteristics of the Classical Turkish Music especially the Sufi Music (Tasavvuf) and Military Music (Mehter), which are of the outstanding values of Turkish culture, and to make observations on this area. The ensembles, following this goal, first establish the community of the artists and the other equipment, repertory studies and style performances, now they perform to the audience by giving concerts.
The music from all four provinces, Gilgit-Baltistan and AJK was also presented. The singers included renowned Shaukat Ali, Ghulam Abbas, Akhtar Channal Zahri group from Balochistan, Zafar Ali group from Khyber Pakhtunkhwa, Bano Rehmat from AJK, Gulshan Jehan, Usman Ali Raees and Raga Boys.
A 16-member National Performing Arts group (NPAG) also presented a thrilling performance on the song 'Pakistan banana hae'. Clad in different regional and national attires, the young artistes gripped the theatre with their synchronized moves and spontaneous expressions.
Earlier, the PNCA Director General Syed Jamal Shah thanked the Turkish Ambassador S. Babür Girgin for bringing the Ensemble to the Pakistan's Independence Day celebrations. He said both countries have deep rooted friendly and brotherly relations for the decades. Both countries can learn from each other through the exchange of art and cultural and joint initiatives.
Turkish Ambassador S. Babür Girgin thanked Pakistan for every support in the hour of need. He said Turkey would prove to be sincere friend to Pakistan in all times. He said there are many spheres where both countries can cooperate to boost mutually beneficial ties.  =-DNA