Western media defending Israeli atrocities: Kakar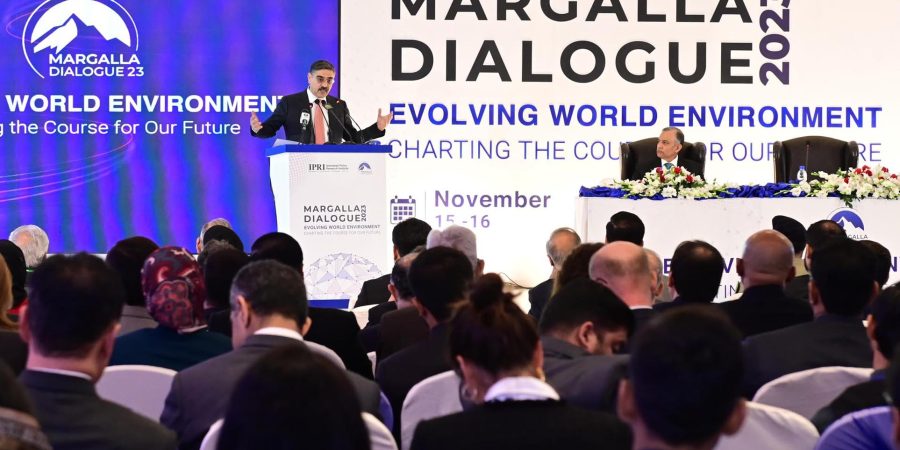 PM reprimands "bizarre" justifications, narrative on killing of Gaza children by Israel
Ansar M Bhatti/DNA
ISLAMABAD: Caretaker Prime Minister Anwaar-ul-Haq Kakar on Wednesday calling Israeli barbarism in Palestine unparalleled even in the medieval era, reprimanded the world's double standards on war ethos and its "bizarre and surreal" rationalization of the killing of children in Gaza.
The prime minister, addressing the annual Margalla Dialogue 2023 conference held by Islamabad Policy Research Institute
on "Evolving World Environment: Charting the Course for Our Future," said Israeli forces were targeting vulnerable people in hospitals and eliminating children.
Referring to his discussions with some diplomats who defended Israeli actions by citing Israeli children's deaths, he expressed his surprise at the argument. However, he reiterated that the killing of any child, regardless of faith or origin, is condemnable.
"So how many Palestinian children have to be killed to appease and address the Israeli anger? One, five, ten, 500, 1000, 4,700? Can they give us a number so that we can satisfy those parents to wait as some 10,000 children needed to be killed to address the Israeli anger," he remarked.
He said those claiming to be the followers of Prophet Moses, were actually following the footsteps of Pharaoh by killing the children which was "utterly unacceptable."
The prime minister, who had also been the IPRI's board member, highlighted the potential for connectivity with the countries in the region including India, and said Pakistan never shied away from establishing trade links with India but it could not beg that as trade should be for mutual benefits.
However, he said before such links, it was essential to speak out on the Kashmir conflict as without addressing that issue, it was challenging to have normal relations with the current Indian regime.
He told the gathering that the Kashmir issue demanded attention aligned with the aspirations of its people as despite promises and UN guarantees, the Kashmiris could not be given their right to self-determination. Postponing the issue is not a solution as the historical resilience against colonization is evident, he added.
Referring to the Hindutva ideology infesting Indian society, he said such policies were a recipe for disaster.
He said contrary to the ongoing persecution in India, the minorities in Pakistan were sharing their destinies with Pakistan having deep entrenched roots in business as well as society.
The prime minister said Pakistan was faced with the challenge of non-state actors but the country was prepared to respond that, without needing anyone's tangible assistance.