Wang Yi to attend China-South Asia Expo ceremony in Kunming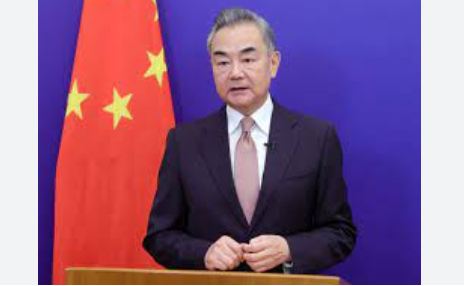 BEIJING, Aug 15 (DNA): China's Foreign Minister, Wang Yi will attend the opening ceremony of the 7th China-South Asia Exposition scheduled to be held in Kunming, Yunnan province of China from Wednesday.
With the theme of "Solidarity and Coordination for Common Development", the expo will continue till August 20, a Chinese foreign ministry spokesperson said on Tuesday.
The exhibitors from Pakistan and other countries will display clothing, money clips and leather hats, etc in the expo.
Over 60 countries and regions have signed up for the expo, including all South Asian and Southeast Asian countries and RCEP member states.
Around 1,000 enterprises signed up to participate in the exhibition, among which 50 are of the global 500 companies.
The expo of this year has 15 pavilions with an exhibition area of 150,000 square meters, Li Chenyang, director of the Department of Commerce of Yunnan Province, China.
"This year, we will focus on inviting more professional visitors according to the different needs of exhibitors. We will also help exhibitors match target buyers precisely so that more exhibits can be turned into commodities," Li Fei, Vice Minister of the Ministry of Commerce of China recently revealed the highlights of this year's expo.
"We will also fully adapt digital platforms to provide 'one-stop' services for exhibitors of the expo. Exhibitors and visitors who cannot attend the event in person can participate, negotiate and purchase online."
China-South Asia Expo has been successfully held six times and has gradually developed into an increasingly influential platform integrating trade, economic communication, commodity display, investment cooperation and e-commerce.
"In 2013, when the first China-South Asia Expo was held, the total trade volume between China and South Asian countries was less than $100 billion, the number increased to $200 billion last year, representing an average annual increase of 8.3 percent,"Li Fei said.
"China is also the largest trading partner of Pakistan, Bangladesh, Maldives and other South Asian countries. Exports of aquatic products, tea and nuts from those countries to China keep increasing and gaining popularity among Chinese consumers," he added.
Li also stressed the efforts that China has made in synergizing the Belt and Road Initiative with the development of South Asian countries especially mentioning its iron brother, Pakistan.
"The China-Pakistan Economic Corridor (CPEC) has brought investment of $25.4 billion to Pakistan, created 192,000 jobs, added 6,000 megawatts of electricity, 510 kilometers of highways and 886 kilometers of the national core transmission grid."