VIDEO: Ai Hidden Threat to News & TV Industry,| Ft. Amir Jahangir Ex CEO of SAMMA TV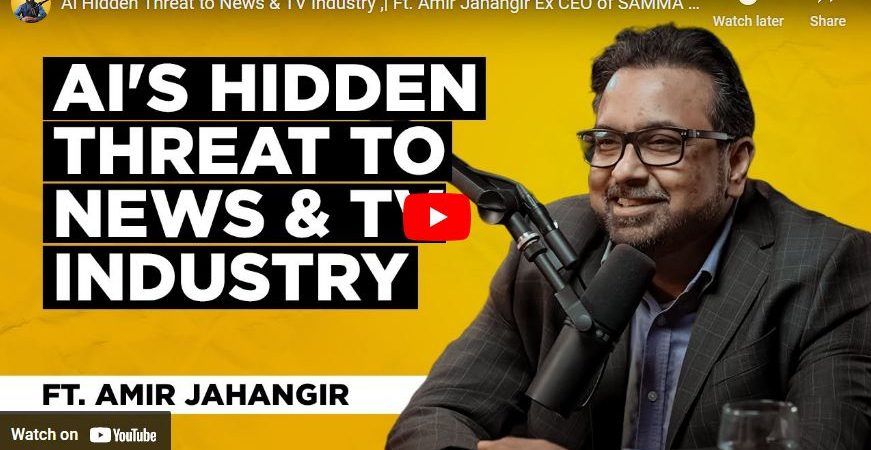 VIDEO: Ai Hidden Threat to News & TV Industry,| Ft. Amir Jahangir Ex CEO of SAMMA TV
Exploring AI's Implications for the News and TV Industry: Deep Fakes, AI-Powered Anchors, and Opportunities Ahead | Featuring Amir Jahangir, Former CEO of CNBC Pakistan/SAMAA TV/DBTV
Discover the intriguing prospects and potential pitfalls surrounding AI as it relates to the News and TV industry. Join us in a candid conversation with Amir Jahangir as we delve into the future of AI and Artificial General Intelligence (AGI).
During this enlightening discussion, we delve into the fascinating realm of deep fakes and their impact on the News industry. We explore the future of News and Current Affairs, including the possibility of AI replacing human anchors and the resulting job implications. Additionally, we explore how AI can play a crucial role in cultivating trust within society, among other thought-provoking topics.
To gain comprehensive insights, we invite you to watch the full episode on your preferred social media platform:
Follow @humaiz.tariq for regular updates.
YouTube:
https://youtu.be/RDFcRFVRiWo
Instagram:
https://www.instagram.com/p/CslWCFxM-ot/?igshid=NzJjY2FjNWJiZg==
Instagram:
https://www.instagram.com/reel/CsnR2TItGHw/?igshid=MzRlODBiNWFlZA==