US Secretary of State meets Palestinian President amid Israeli aggression in Gaza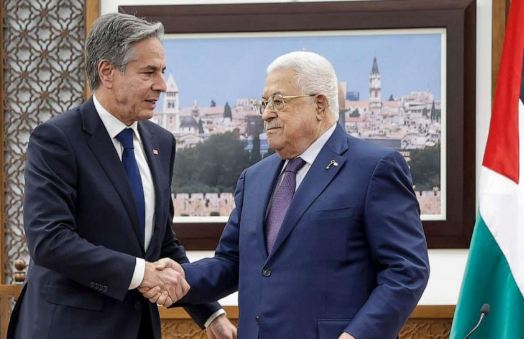 RAMALLAH, NOV 5 /DNA/ – US Secretary of State Antony Blinken met with Palestinian President Mahmoud Abbas on Sunday amidst escalating Israeli violence in the Gaza Strip and mounting international concerns over the humanitarian crisis caused by Israeli military operations against innocent Palestinians.
The meeting, held in the occupied West Bank, occurred following an unannounced visit by Blinken, conducted under tight security measures and met with protests against US support for Israel.
Blinken's visit came just hours after Israeli warplanes struck a refugee camp in the Gaza Strip, resulting in the tragic loss of at least 40 innocent Palestinian lives and injuring dozens, as confirmed by health officials. Despite efforts to keep the visit confidential, news of Blinken's presence sparked demonstrations against the United States' stance on the ongoing conflict.
During the meeting, President Abbas urged Blinken for an immediate ceasefire in Gaza, aligning himself with other Arab leaders who have also called for an end to the violence. However, no official statements were made after the brief meeting.
On Friday, Blinken had visited Israel and met with Israeli Prime Minister Benjamin Netanyahu before leaving for Amman, Jordan's capital, for meetings with Arab foreign ministers on Saturday. At each stop, Blinken has offered firm US support for Israel's right to defend itself.
The situation in Gaza has raised concerns among US allies in the Arab world, who have expressed growing frustration with the deteriorating humanitarian conditions in the besieged Palestinian territory. The mounting casualties have intensified the scrutiny on the United States' diplomatic initiatives, with Arab leaders emphasizing the urgent need for a truce as the death toll in Gaza nears a devastating 10,000.