UN rights council to hold urgent meeting on desecration of Holy Quran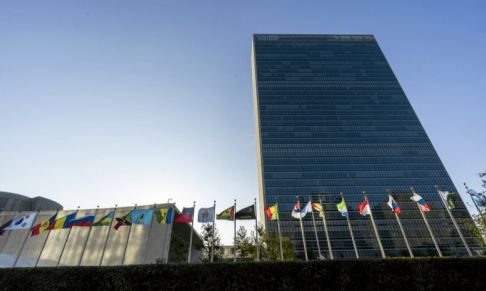 The UN Human Rights Council will hold an urgent session to address the desecration of the Holy Quran following an incident in Stockholm that sparked global outrage, a spokesman said on Tuesday.
The development comes after a man, who fled from Iraq to Sweden several years ago, tore up and burned the Holy Quran outside Stockholm's central mosque last week as Muslims around the world began marking the Eidul Azha holiday.
The act drew strong criticism from several countries, including Pakistan, Turkiye, Jordan, Palestine, Saudi Arabia, Morocco, Iraq and Iran.
The Geneva-based UN Human Rights Council, which is meeting in session until July 14, will change its agenda to stage an urgent debate, following a request from Pakistan.
"The UN Human Rights Council will hold an urgent debate to 'discuss the alarming rise in premeditated and public acts of religious hatred, as manifested by the current desecration of the Holy Quran in some European and other countries'," council spokesman Pascal Sim told reporters, citing the wording of the request.
"This urgent debate will be convened following a request of Pakistan, sent on behalf of several members of the Organisation for Islamic Cooperation, including those that are members of the Human Rights Council.
"It will most likely be convened this week at a date and time to be determined by the bureau of the Human Rights Council that is meeting today," Sim added.
There are 47 members of the Human Rights Council. The UN's top rights body is currently in the second of its three regular sessions per year.
Pakistan demands 'swift justice'
A day earlier, Pakistan demanded immediate action against the perpetrator of the act.
Prime Minister Shehbaz Sharif while addressing a cabinet meeting had said the whole Ummah and the government and people of Pakis­tan strongly condemned the sacrilegious act.
"We demand immediate action against the perpetrator," the premier had said.
Unfortunately, this is not the first time that such an act has been committed, he had added, recalling that a similar incident had taken place in the past too.
The premier had also dem­anded that the Swedish government take notice of the Islamophobic and hateful narrative against the Muslim population in their country.
PM Shehbaz had further appreciated the Organisation of Islamic Cooperation for convening an urgent meeting on the issue and said Pakistan endorsed the OIC's meeting and its decision with the hope that such Islamophobic incidents would not recur in the future.
On Sunday, the OIC had called an emergency meeting and said collective measures were needed to prevent acts of desecration of the Holy Quran and international law should be used to stop religious hatred after the burning incident in Sweden.